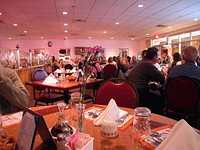 Hong Wah Chinese Restaurant is a Chinese restaurant located in Dunkin' Donuts Plaza in Penfield. In January 2009, it was honored for having one of the 100 healthiest Chinese menus in the country by the Top 100 Chinese Restaurants Dining Guide, published by Chinese Restaurant News.
Notes & References

Sean Dobbin wrote on Jan 20, 2009, in the Business Section of the D&C an article entitled Hong Wah restaurant in Penfield honored for healthy menu 1

Comments:
Note: You must be logged in to add comments
---
2008-12-10 10:36:31 We've ordered out and dined in here many times. The service has always been excellent. The food is standard Chinese/American fare, but unlike a lot of restaurants, the food has never been greasy, and they seem to use good quality meats and veggies. They don't drown your food in whatever sauce you've ordered. Kids are welcome here. All in all, this is our first choice when we feel the urge for some local Chinese. —RichMulvey
---
2009-02-03 23:51:03 During my visit on 01/30/09, they were absolutely packed. Dishes sampled: Hot and Spicy Chicken & Shrimp, Kung Pao Chicken, Crispy Honey Chicken, Curry Chicken and Chicken Fried Rice. Definitely decent. Our server was very polite - however, she did forget to take the order of a member of the party...flagging her down was not easy (this is probably because they were crowded). I will return if I am in the area. —OneLove
---
2009-05-10 19:07:12 We've been twice. Great, affordable choice here in Penfield. The first time was on a Friday night, and although busy we got prompt, friendly service. Crispy honey chicken was a bit too sweet for my taste, but it was still pretty good. Husband had general tso's - enough for leftovers. Went again on a Sunday evening - they were NOT staffed enough to handle the crowd (and it wasn't really even full, but they did have a couple of large groups). I tried the chicken with broccoli this time and it was also good. Unfortunately, wait staff was harried and distracted. It took over 20 minutes to get our check. Will try again, but never on a Sunday! —DGandDJ
---
2010-06-02 12:09:07 I agree with everyone here, food is excellent but service is lean. We go about once a month. —LisaRuns
---
2011-11-21 15:19:00 This is a review I originally posted on Yelp:
I really wonder if the other reviewers for this restaurant actually ate somewhere else. From my experience yesterday, I'd say that it's only a fair-to-mediocre Chinese restaurant. About the only thing positive I can say about it is that the service, while surly, is at least attentive. And, I guess you can trust that you're not going to get ptomaine poisining here. Otherwise, it's pretty much the same cr@p you can get at any other vaugely-Chinese restaurant in town. Actually, this IS just like any other Chinese restaurant...
As for the food-we started off with an old standard; hot & sour soup. This soup tastes like it was probably made from a mix that some chinese restaurant supply store sells, since it's EXACTLY the same as any other's basic H&SS. Same overly-thick consistency, and not a hint of any spice or even a vinegary touch (a lot of other Chinese places in town at least 'tweak' the H&SS, but not here, it seems.)
Next dish was the sesame beef, which was what any other place would call 'orange beef', except for the plain sesame seeds sprinkled on top. The sauce was just a red-orange glaze, not even really a sauce, and it was far to thick and sugary. The beef was a bit dry, too. Once again, it was billed as 'spicy', but lacked any spice at all.
Last was a cantonese favorite: moo goo gai pan. If this place couldn't manage decent sichaun (soup) or hunan (beef) dishes, I was hoping at least they could manage a decent cantonese dish, and at least give it a bit of pungency. Nope. It was bland, and a bit dry as well.
What a disappointment this place was. From the 2 good reviews posted, I was hoping for at least something a bit out of the ordinary. Instead, we had probably the most boring 'chinese' meal I've had in a long time. I've heard that the owner is closely related to the former owner of the Kam Wah, which was a much, much better restaurant. About the only thing this place would compare favorably against is that faux-chinese junk they serve at the hot bar at Wegman's.