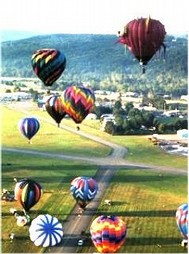 The New York State Festival of Balloons
Upstate NY is home to several annual hot air balloon festivals.
The Festival of Balloons is held every Labor Day weekend in Dansville, NY. Launches are at 6:00am and 6:00pm daily and usually feature over 50 different balloons floating up into the sky at once. The 2005 festival had around 55 balloons, listed here with photographs of most of them. Entrance into the festival is $5 to watch and $175 to ride in a balloon. A variety of food and gift vendors are available.

Letchworth Park holds the Red, White & Blue Balloon Rally every year in March. Admission is covered in the entrance fee to the park. 20 balloons are launched at once.
See also Hot Air Balloon Rides.