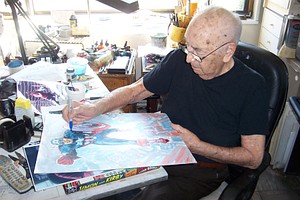 | | | |
| --- | --- | --- |
| Birth Name | | Aliases |
| Hymie Simon | | Joe Simon |
| Birth date | | Birth place |
| October 11, 1913 | | Rochester, NY USA |
| Date of death | | Place of death |
| December 14, 2011 | | New York, NY USA |
Known for
His work in the field of comic books
Occupation(s)
Writer, editor, artist and publisher
Joseph (Joe) Henry Simon, given the name Hymie Simon by his father, was born October 11, 1913 in Rochester, NY and died December 14, 2011 in New York City at the age of 98. He graduated from Rochester's Benjamin Franklin High School in 1932 where he was the art editor for both the school's newspaper, The Clarion, and the school's yearbook, The Key. Upon graduating, Joe went on to work for the Rochester Journal-American newspaper in Rochester and then on to Syracuse before moving to New York City to continue his professional career.
Joe is best known as the co-creator of Captain America, the Newsboy Legion, the Boy Commandos, the Fly, and Fighting American, just to name a few. He was the first editor of Timely Comics (Marvel Comics) and along with his partner artist Jack Kirby produced some of the best comic books ever printed. Not only did Joe and Jack write comics about superheroes, they also wrote romance, Western, police, war and horror comics. Joe and Jack worked for various comic book publishers including Fawcett Publications where they created the first Captain Marvel comic. Joe and Jack eventually started their own company, Mainline Publications. After the partnership between Joe and Jack dissolved, Joe went on to work for Harvey Comics and eventually worked in advertising. In 1960 Joe started Sick Magazine.
Joe continued to live in New York City where he remained active in drawing and publishing until his death on December 14, 2011. Joe's autobiography published in 2011 discusses growing up in Rochester, NY during the early 1900's.
An original Captain America art work was donated in 2009 by Michael Grossman to the Strong National Museum of Play in Rochester as part of the "American Comic Book Heroes: The Battle of Good vs. Evil" exhibit. As stated in the description below the Captain America's drawing, Joe Simon created Rochester's own superhero.