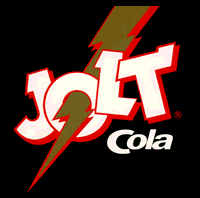 Jolt Cola, with "twice the caffeine and all the taste", was created in Rochester in 1985 by
C. J. Rapp. Besides the caffeine, Jolt is unusual in still using cane sugar in an industry that has almost exclusively switched to high-fructose corn syrup. The caffeine is approximately equal to that in coffee. It has, naturally, been embraced by programmers and others who depend on caffeine. Fittingly, Software Development magazine has its annual
Jolt Awards given to outstanding products, books and websites in the realm of software development.
Jolt is now produced around the world under license and the company has changed its name to
Wet Planet Beverages (note: Flash-intensive site) as it diversified. Wet Planet makes a variety of Jolt flavors such as Cherry Bomb, Citrus Climax, Orange Blast, White Lightning, Red Eye, and Electric Blue and licenses the Jolt name for candy and gum. In addition to Jolt they own Napa Valley Soda, Thornwood Estates, DNA, Autumn Frost and Martinelli's.
There was even a Diet Jolt at one time, but it wasn't very popular and died a quiet death. Today Jolt offers Jolt Ultra, a "diet" version containing Splenda as a sweetner.
Wet Planet retains its Rochester roots with their home office in Linden Oaks.
*
11/10/09 D&C Article about disputes between owners of Jolt Cola and selling the business.

Comments:
Note: You must be logged in to add comments
---
2006-02-05 14:52:52 didn't it used to be "all the sugar, twice the caffeine?" —JohnGormly
---
2006-02-05 18:38:23 It was, not sure when they changed it. Draw your own conclusions... —TomMaszerowski