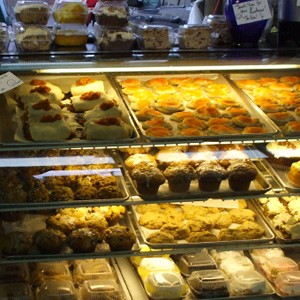 JonJohn's Bakery display case
JonJohn's Bakery is a family-owned artisan bakery whose specialty deserts may be purchased at the Westside Farmers' Market, the South Wedge Farmers Market, the Brighton Farmers Market, the University Farmers Market, and Boulder Coffee Co.. Products include oatmeal craisin cookies, locally famous chocolate peanut butter balls, chocolate cakes, fresh local fruit pies and cobblers, as well as some less obvious items like fresh squeezed lemonade, sweet potato tarts, and corn bread.
Like many Market vendors, their selection changes weekly. Please call ahead to order. They also offer delivery. Jonathan and John are two people.
Comments:
Note: You must be logged in to add comments
---
2011-04-15 10:22:57 I am disappointed in their email service. I emailed to inquire about products/delivery, etc. after viewing their website, and exchanged a few emails back and forth. My last email was never responded to about confirming an order, and after a week and a half I sent an update email, again with no response. I am very disappointed and won't be contacting them again. It's a shame, as I had heard good things. —LAHopkins
---
2011-04-15 12:39:54 Does their phone work? —DamianKumor
---
2011-06-12 20:09:52 The John's are no longer at the Rochester Public Market - but are at the South Wedge, Brighton, and Genesee Street markets. Jonathan also supports the annual chocolate ball for the Epilepsy Foundation by baking his amazing grandma's chocolate cake. I'd highly recommend their sweet potato tarts. —DavidGottfried
---
2012-02-20 16:06:32 Hello Friends, we would like to invite LAHopkins to contact us again regarding your posting. We apologize and aren't sure what may have happened. We can assure you that if you contact us by phone at 585-750-4244 or email us at contact@jonjohnsbakery.com that you will hear back from us. Thanks so much for your feedback. We are a small business and we strive for consistent, fair and honest customer service. Jonathan & John @ JonJohn's Bakery, Rochester 2/20/12. —JonJohnsBakery