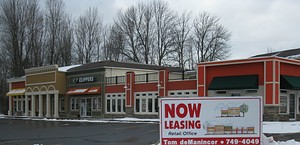 Photo Feb 2010, BradMandell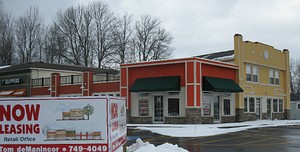 Photo Feb 2010, BradMandell
Lipinski's Corner refers to the strip mall created from a 2009 renovation of the building formerly occupied by Lipinski's Hardware, which closed in 2008.
Occupants

Notes and References

D&C Webster Blog of June 1, 2009 - "Lipinski's corner coming to life"


"There are finally signs of life in the newly refurbished Lipinski's building on the corner of Terrel Drive and Empire Blvd. The property has been vacant since last fall, when Lipinski's Hardware store went out of business. The developers have subdivided the building into several smaller properties, while significantly changing the exterior, giving it a distinctly gingerbread-house look.


Finally, after what has seemed like forever, there are signs of life on the corner again. KP Clippers men's hair shop opened its doors a little more than a week ago

"


Rochester Now Aug 12, 2009


"Lipinski's closed last year after more than 50 years in business, and the family sold the property to real estate agent and longtime acquaintance Tom de Manincor. [He] ... owned office space and apartment buildings across a side street from Lipinski's ... for 17 or 18 years.


De Manincor closed on the Lipinski property ... and gave the family time to clear out their merchandise. Once the store was officially closed ... [He] decided to give it a makeover ... more than slap on a new coat of paint...


"... something a little different, a little upscale," [he] said


He chose bright, eye-catching colors for the exterior, including red and yellow. He created individual store fronts but kept the inside space open, so that it could accommodate the preferences of future tenants. He wanted the building to stand out among all the other businesses on Empire.


The flexibility in rental space has allowed him to offer units in a variety of sizes — anywhere from 500 square feet to 3,000 square feet, depending on a tenant's wishes. Rent ranges from $12 to $15 per square foot per month.

"
Comments:
Note: You must be logged in to add comments