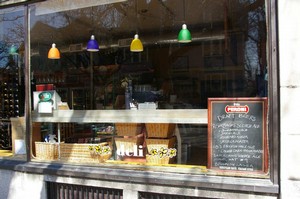 Magnolia's window 3-2008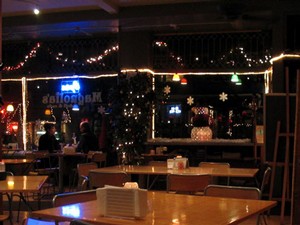 Magnolia's Deli & Cafe: photo by RUDY!
Magnolia's Deli & Cafe is a cafe on Park Avenue. They offer a varied menu of deli style sandwiches, soups, salads, and specialty pizzas. Pizza is served after 3:00PM and subject to availability of dough reserves for the day. Breakfast is also served. There are many vegetarian options.
For dessert, they have a modest selection of pastries, cakes, and cheesecakes, as well as espresso drinks, coffee, and tea. A variety of beers are on tap and in cold cases. Wine is also available.
During the warmer months, outdoor patio seating is available.
University of Rochester students receive a 10% discount off their total food purchase. Everyone else can go to their website
Specials Page and print off a coupon.
They recently expanded to additional facilities within "Wild Wood Country Club to offer a party house with rooms accommodating 25-to 250, with casual dining evenings from Tuesday through Friday. 1
In August 2013, Magnolia's was visited by President Obama on a trip through upstate New York. 2
Comments:
Note: You must be logged in to add comments
---
2008-02-26 13:19:23 This is a charming place to take a date. The sandwiches are pretty good and cleverly named but for the price should come with something more than just chips. Your best bet would be to try one of the pizzas which always look good when they come out. Desserts are hit or miss. Coffee is ok but the last time I was there they set up this new serve yourself kind of coffee cart reminiscent of the kind you find in a gas station. It seemed kind of out of place to have to get your own coffee especially when you have waitresses serving you food and dessert. —JaimeTe
---
2008-05-04 18:27:32 A friend and I visited today (5/4) for our second and probably LAST time! The food is very good, the atmosphere nice - the service HORRIBLE! They either have no direction or no interest in good customer service. Just like the first time (when there were 4 people in the place) we waited to sit at one of several empty tables. Once there NOBODY stopped by for nearly 7 minutes. Then when a waitress did slow down it was to say she'd be right back - and she was - 5 minutes later. OK if it's crazy busy - but it wasn't. There's a lot of good sandwich places around - I'll try them next time. —SteveSays
---
2008-05-05 10:19:55 Great beer selection and pretty good sandwiches.
Nice little place to grab a quick bite to eat.
Popular neighborhood destination, great fast casual restaurant. —MrRochester

---
2008-05-06 23:13:16 Had the "Alexander" sandwich (tuna with red onions and raspberry vinaigrette) and sweet onion chips for lunch yesterday. Very fresh-tasting and recommendable. I went at lunch hour and had to wait awhile for my food, but the place *was* pretty busy. I'd definitely go again. —MattDeTurck
---
2008-05-22 01:11:06 I love love love this place!! Service is always both speedy and very friendly. The food is fantastic (the tomato artichoke soup is my favorite!) also their pizzas have always been great. More so a great place for lunch. Has a very welcoming vibe to it as soon as you walk in the door. P.s-the desserts are delicious as well! —SillyGirl49
---
2008-09-26 18:02:47 Had the buffalo chicken wrap just the other day - super good! And the Natalina pizza is also highly recommended. I also think their desserts rival Phillups desserts in Henrietta. —AlisonRose
---
2008-09-29 12:08:24 They have some really fresh and healthy menu items as well as some good greasy guilty pleasures. I like going when I can sit outside and sit. I have to say that when I go to pick up an order, you can stand at the counter with person after person not bothering to make eye contact or ask if you are helped. God forbid you would have to interrupt them putting napkins away.
They have microbrews in the cooler which you can buy to drink there or take with you, but they are SUPER expensive. You pay sit down prices to take them with you, like $3 or $4 a bottle.
Cool place but they could work on their customer service a bit. —BadFish

---
2009-01-06 20:49:59 Great place to eat when the weather is nice! They have a nice beer selection (local microbrews from CB's, for example), good food, good coffee, and good desserts! Try the fruit cup or one of the pizzas with goat cheese. Delicious! Although service has been slow when it's busy (understandable), I've always had really nice, friendly servers. No complaints here! —TrishHeckmann
---
2009-03-28 11:01:21 Just went to Magnolia's again last night for dinner. Unfortunately, I live close so I end up spending too much money here! I agree with some of the other comments that the service could use a little work. When we went last night, it was busy so we were put on the wait list. As there is NO WHERE to stand inside and wait and it was a nice night, we stood right outside the restaurant and waited. We watched as many tables got up. Unfortunately those dirty tables sat there dirty....for a long time. There must have been 5-6 dirty tables that just sat while groups of people came in and were waitlisted because there was no one to bus the tables. The hostess made eye contact with my friend outside several times (he was the one who put his name in) yet she started seating others who came in after us. When we were finally able to get inside she said "Oh, I didn't know where you went" despite watching us go outside and blatantly making eye contact with my friend several times. Good for Magnolia's that their food is delish! The tomato soup is HEAVEN and I highly recommend that you check it out! I will eat this even when it's 90 degrees outside because it is so good. I have sampled several things from the menu including appetizers, sandwiches and pizzas and I have to say that I've been impressed with everything. So, if you want a good meal, check it out. If you want great service, try somewhere else. —dmarie
---
2009-09-09 15:17:31 One our favorite warm weather lunch places. Have been here many times and because of the extensive menu have never had a problem finding something different to eat. I am partial to the build your own sandwiches. The service is very hit or miss but the food makes it acceptable. As with all good weather outside eating places, ours and the nearby tables were treated to a day with fake laugh, look at me loud girl. Makes me wonder how we managed to dine all of these years without facebook and cell phones.I realize the restaurant has no control over this, just be ready to be seated near someone that has no regard for anyone else. Must add that have never had any of these issues when inside. —almorinelli
---
2009-11-06 17:10:29 They have the best tomato soup ever! Tried their baked brie with honey and walnuts, baguette and fresh fruit - delicious - although a little pricey. —DesignDreamz
---
2010-03-21 18:53:01 We absolutely LOVE this place! It is one of our favorite places to go to in Rochester. Their pizzas are fantastic, as are their sandwiches, and their signature Tomato-Artichoke soup is out of this world! Service can be hit or miss depending on how busy they are and who is working. In the warmer months, it's so nice to sit outside and enjoy your meal with a cold Rohrbach blueberry ale with blueberries floating in your glass! —Acarp
---
2010-06-25 09:31:07 I visited Magnolia's last night (June 24, 2010). I suspect the service issues mentioned by others were momentary glitches, because the service I got (and saw) was outstanding. The staff was individually attentive to their own tables. But they were also covering for each other in ways which were redundant X 3. I dined alone, so it was interesting to watch these people at work. Oh - and the food: Fresh, delicious and visually excellent. —SamKatt
---
2010-07-31 19:44:58 After hearing great things, we decided to try Magnolia's while we were in the neighborhood. Being a nice summer day, the outside seating was of course at capacity, but there were plenty of tables to seat parties of 2-4 indoors. A busser/hostess showed us to a table, for whatever reason didn't bring menus with her. Strange, but we figured a waitress would perhaps bring them over soon after. Wrong. After sitting with no menus for 7-8 minutes and having each and every waitress walk past us, the majority making eye contact, we went to the entrance and grabbed them ourselves. Another 10 minutes pass, at this time we could tell the waitresses on staff each were hoping one another would notice and take our table, yet none did. Nor did they visit the table that was seated within minutes of us this entire time either. I understand how waiting tables works, and I know some waitresses/waiters always have to pick up other's slack and take an unfair number of tables, but the fact that each of them assumed that someone else was going to eventually take our table was downright insulting. We ended up walking out with no intentions to ever return. Sure we could have spoken up, but at the same time it's also not our job to make sure we get service. A little extra effort would save me from having to make this a dissatisfied review, and spreading bad word of mouth, which I can assume costs a restaurant more in the long run than the $30 they didn't make this afternoon. —Hephaestus
---
2010-10-21 14:49:03 Magnolias is dead average...nothing special. Food is a bit overpriced, but so is everything on Park...rent must be high! Can't say it's good or bad...just kinda there. —ericbarbehenn
---
2011-03-03 09:18:54 I really like Magnolia's Cafe. Its a great place in the summer when out walking around the city. Altough slightly on the pricy side, the food is excellent and the atmosphere is very friendly. I've had very good luck with their cakes if there is still room after my meal. My favorite is the Vassar Sandwhich and a bowl of French Onion soup. The service isn't always very prompt, but depending on your schedule, not feeling rushed can be nice; such as a leasurly weekend lunch. However, if I'm on a lunch break during the week, that can be very frustraiting. The only downside I really have regarding the restaurant, is I don't think their chairs are very comfortable. Overall the place is a very nice neighborhood restaurant with good food! —saraokirk
---
2016-12-02 12:58:07 I've always had a good time at Magnolias. Food is reasonably priced and is good quality. Really nice decor and they have a great beer menu. The place is always busy and the outside seating is nice. —DE