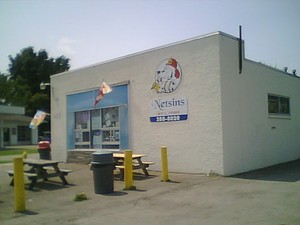 Netsin's Ice Cream.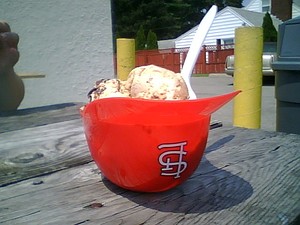 You can get two scoops of ice cream in a mini-helmet of your favorite baseball team.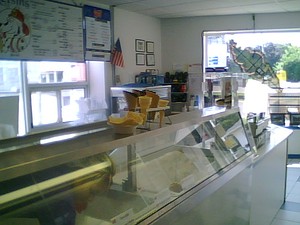 The parlor is cool if it gets too hot outside.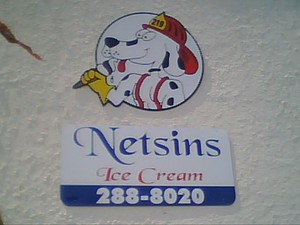 Netsin's mascot is a dalmatian with a fire helmet.
Location
290 Culver Parkway, Irondequoit NY, 14609
Hours (as of June 2010)
Monday - Friday: 3:00 PM to 9:00 PM
Saturday - Sunday: 12:00 PM to 9:00 PM
Phone
585 288 8020
Accessible
Yes
Netsin's Ice Cream is an ice cream parlor in the Laurelton neighborhood of Irondequoit. It serves several flavors of
Perry's Ice Cream, soft serve, frozen yogurt, and frozen custard. They also sell hots and cheeseburgers from 11am to 3pm, Monday thru Friday.
You can order at a window on the outside, where there are three picnic tables set up. Inside the parlor, there are several tables and chairs.
Comments:
Note: You must be logged in to add comments
---
2008-07-28 11:25:08 A great hidden gem. Perfect for those times when you want ice cream in favor of frozen custard (sacrilege!). The mini-baseball helmets are a nice touch. It looks like this is in an old fire station - which would explain the dalmatian mascot. —ZachSmalt
---
2008-09-01 16:12:50 Netsin's is not much to look at but the place is a neighborhood treasure. Great ice cream and prices and often run into friends when we go. —NewtonNola
---
2009-10-05 13:24:00 Wow. We just discovered this place over the summer, and enjoy a long walk to get there (so we don't feel so guilty about indulging). Great place, great soft-serve (not all soft-serve is created equal!), great selection. Love this place. —LoisGraham
---
2010-05-03 16:05:36 Best Ice cream joint in town. This place is the reason I don't shed any weight during the summer months. Soft serve is the best and prices aren't too out of line. —Hummah
---
2019-11-04 22:47:53 A great neighborhood ice cream place. It's a nice destination to walk to on a warm summer night. —batguano