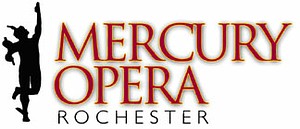 Original logo.
The Opera Guild of Rochester is Western New York's only professional opera company. They are located on Gibbs Street in the East End, sharing space with the Eastman School of Music. According to their mission statement:
The purpose of the Opera Guild of Rochester shall be to foster an interest in and an appreciation of opera within the Greater Rochester community; to support and promote the presentation of opera in the Greater Rochester area; and to enhance through various programming the education and enjoyment of opera among its members and the community at large.
They were formerly known as Mercury Opera. Incorporated in 2004.
The economic recession, starting in the 2007/2008 season, took its toll on the finances of the company and in June 2012, Mercury Opera Rochester ceased to exist.The Guild of Mercury Opera Rochester now continues its mission as the Opera Guild of Rochester, , a 501(c)(3) tax-exempt organization, supporting opera and opera educational programs in Western New York State.
Comments:
Note: You must be logged in to add comments