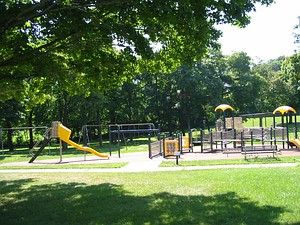 A view of the school playground
Location
85 Hillside Avenue, Rochester, NY 14610
Phone
585 473 1533
Principal
Kimberly Harris-Pappin
Website
RCSD Schools and Programs
RCSD School No. 1, Martin B. Anderson, is a public elementary school of the Rochester City School District that serves students from pre-kindergarten to grade 6.
An after-school tutoring and recreation program is held at the YMCA.
The School Number 1 Playground features swings, play equipment on a rubberized surface, a sandbox, and plenty of open space.
Comments:
Note: You must be logged in to add comments