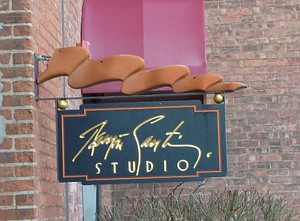 Ramón Santiago (1943-2001) was a famous and collected artist whose career spanned three decades. His imagery is internationally recognized. Known for his surreal style, Santiago exhibited to sold-out shows at New York City galleries throughout the 1970s.
Santiago was born in Rochester and graduated from the Rochester Institute of Technology.
The Ramón Santiago Studio is located in the Hungerford Building.
Comments:
Note: You must be logged in to add comments
---
2012-01-31 19:29:49 Is it just me, or do the women in his paintings all look like Roseanne Rosana-Danna? —Alex-C