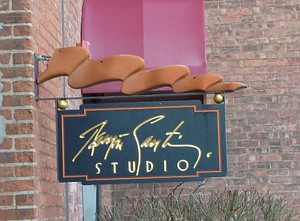 Location
"510 Park Avenue "]["Rochester, NY 14607 "
Hours (as of March 2013)
Wednesdays thrill Fridays : 11:00 to 5:00PM (By Appt
Saturdays: 11:00AM to 3:00PM (By Appt
Wheelchair Accessible
Info Needed
Email
<studio AT ramonsantiago DOT com>
Website
http://www.RamonSantiago.com
Facebook
Twitter
Ramón Santiago (1943-2001) was a famous and collected artist whose career spanned four decades. His imagery is internationally recognized. Known for his surreal style, Santiago exhibited to sold-out shows at New York City galleries from
1970- 1990s. Additional international exhibits and one man shows were in Europe (London, Paris, Palermo & Marbella, Esp.
Santiago was born in Rochester and attended the Rochester Institute of Technology prior to joining the US Marine Corps.
The Ramón Santiago Studio is located at 510 Park Avenue.
Comments:
Note: You must be logged in to add comments
---
2012-01-31 19:29:49 Is it just me, or do the women in his paintings all look like Roseanne Rosana-Danna? —Alex-C