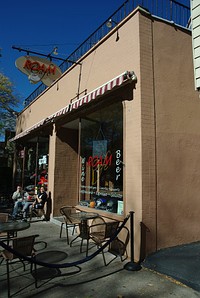 Roam Cafe on Park Ave, 10-2010
Location
260 Park Avenue, Rochester NY, 14607
Hours (as of February 2020 per website)
Monday - Saturday: 11:30AM to 11:00PM (Bar until midnight)
Sunday: 10:30AM to 10:00PM (bar until 11)
Phone
585 360 4165
Wheelchair Accessible
yes
Website
http://www.RoamCafe.com
Roam Cafe is a restaurant and bar on Park Avenue. They serve a full menu of lunch and dinner items, 7 days a week. Brunch menu available Sundays 10:30-2:30.
Comments:
Note: You must be logged in to add comments
---
---
---
---
2012-05-18 13:09:58 Try Roam! You will love it. The prices are so reasonable, the atmosphere terrific and the menu very nice. - something for everyone. Yes, I heard they had a bad start - think they opened before they worked out some logistics and the food & service was not great. That has changed and everyone should give this gem a try. It's my new favorite place.
---
2014-12-24 10:06:17 Some of the comments from a few years ago are surprising to me. I lived off Park Ave for two years and always walked or drove by this place. I just thought it would be a little coffee shop so I never tried it out. Once I moved to a different part of Rochester, I tried it out, and it was great. I'm not sure if it's changed over the years. I don't get the vibe of a coffee shop, and I didn't even know they had gelato. To me, this is just a nice little Italian restaurant. Prices are reasonable and the food is great. It's becoming one of my favorite spots in Rochester. And as small and unknown as it may be, it's always been busy when I've been there. —DE
---
2014-12-24 10:07:46 When I say Italian, I guess I mean it's Italian influenced. Certainly not a full blown Italian menu. —DE
---
2015-05-18 15:39:22 To update my previous comments, I've been back a few times and can say that almost every time I've been there, the service has been extremely slow. I am not sure if they are understaffed or if the person in charge of the front of the house is slow or careless. I went there for brunch recently, and we were sat very quickly. We never had the opportunity to order drinks for a good 15 minutes, when another server came over and asked if the other lady had taken a drink order. The new server was busting her butt and running around while the other lady was very slow and didn't seem to care. The rest of our service was slow because our new server was so backed up with tables. It was busy, but not crazy busy. The food and our drinks were great, as always. But it's getting hard to recommend this place to people because every time I do, the service is very poor. The owner of the place does a nice job with customers and will bring out the food and check on us, but in general it's just very very slow. —DE