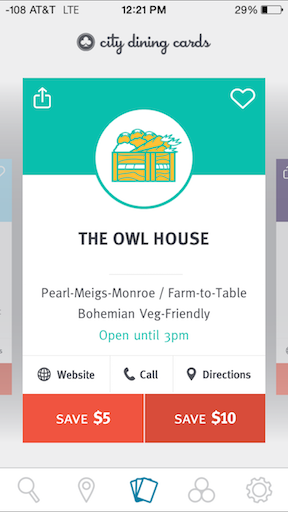 Rochester City Dining Cards were previously sold as decks of cards, like playing cards, where each card is a gift certificate to a top locally owned restaurant. In each deck there are 50 cards that are worth $10 off $30 or more spent on food, and two wildcards that offer freebies. There are no blackout dates, and cards are valid through December 31, 2015. The City Dining Cards program was started in Buffalo in 2010. Cards have been available in over 20 markets in the US & Canada. 2015 is the last year cards are available in physical format to consumers.
On September 10, 2015, the company announced the launch of a mobile app in Rochester, NY. It is available in several other cities and is currently available for iPhone. Similar to the cards, consumers receive $5 off $20 in food spend, or $10 off of $40. Cards can be redeemed once every 90 days, and there is a loyalty program within the application. It is free to download and use
Development is currently underway for an Android Platform.
Comments:
Note: You must be logged in to add comments