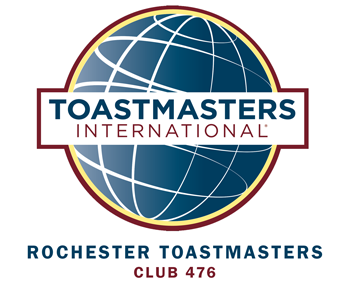 Location
Cerame's Italian Villa: 3450 Winton Pl # 17, Rochester NY 14623
Meeting Information (as of May 2016)
Alternating Thursdays 6:00PM to roughly 8:00PM. On occasion, meeting dates are adjusted due to holidays; please see our website for upcoming meetings.
Handicap Accessible
Yes
Attire
Professional. Suits/ties for men, suits/business attire for women.
Notes
Dinner is optional and meals can be ordered directly off of the Cerame's menu. Be ready for fun, drama and a great time!||
In our meetings, members receive evaluations of their prepared and extemporaneous speeches, participation in structured debates, and effectiveness as a member of the Club's Executive Team. Also, guests can participate in the extemporaneous speaking section of the meeting, and provide comments at the end of the meeting. Rochester Toastmasters Club 476 prides itself on the warm, welcoming atmosphere and tangible takeaways that are provided in our evaluation section of meetings.
The club is affiliated with
Toastmasters International and teaches speaking and leadership skills to its members while actively promoting the Toastmasters Club Mission: "To provide a supportive and positive learning experience in which members are empowered to develop communication and leadership skills, resulting in greater self-confidence and personal growth."