Photo: Dec 2007 BradMandell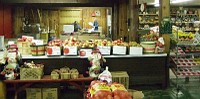 Photo: Dec 2007 BradMandell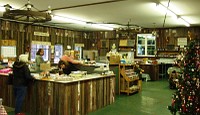 Photo: Dec 2007 BradMandell
Photo: Dec 2007 BradMandell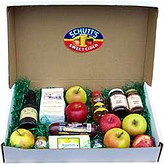 Website Gift Box
Location
1063 Plank Rd, Webster NY, 14580
Hours (as of January 2010 per Website)
Monday-Friday: 9:00AM to 6:00PM
Saturday/Sunday: 9:00AM to 5:00PM
Phone
585 872 2929 // 888 277 5370
Accessible
Yes
E-mail
<schuttsapplemill AT hotmail DOT com>
Website
http://www.SchuttsAppleMill.com/
***Closed for 2 months due to apple crop shortage. So no fry cakes at the farm or pittsford dairy till june.
Schutt's Apple Mill is a farm market on Plank Road in Penfield operating
since 1918:

" ... three generations of Schutt's have grown the finest apples ... and pressed the best cider ... ship the best apples to 48 states ... shipment of apples or a hand packed, carefully selected, Gift Box.


... Visit our country store ... stocked daily with fresh apples, baked goods, cider, the best New York State cheeses, home made preserves, spices, and unique gifts.


...We have about seventy acres of apples and we grow forty varieties of different species. View photos of our orchards.

"
Website Apple Blossom

Picking Times
U-Pick Cherries - last week in June
U-Pick Rasberries - starting 4th of July
U-Pick Pumpkins - in the fall
Check Website
More Photos
Comments:
Note: You must be logged in to add comments
---
2008-10-26 13:20:40 My sister came for a visit from Florida and was delighted with Schutts. She made a third, departure morning, trip back there yesterday to pick up apples and fried-cakes for the trip back to Florida. Got a call this morning with an invitation to come visit their friends near Philadelphia anytime, as long as we bring some of the Schutts' fried cakes along (:>} !! I love to split them and heat them up in the toaster - that was also a big hit with my brother-in-law and their over-nite hosts in PA. —BradMandell