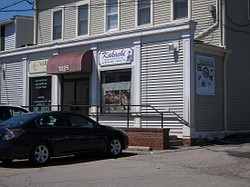 Back Entrance, Parking Too, 04-2011
Assortment of Rolls, 04-2011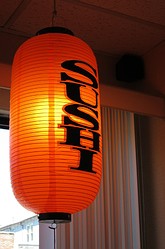 Sushi Lantern, 04-2011
Sushi King. formerly known as Kakachi Japanese Restaurant is a Sushi/Japanese restaurant on Penfield Road in Penfield. It opened in April 2010.
Comments:
Note: You must be logged in to add comments
---
2010-05-08 13:54:25 I have tried this place several times and have been very impressed. Take out and eat-in are both fresh, filling, reasonably priced options. The salmon and eel sushi rolls are well prepared, well presented and delicious. —RocDoc
---
2010-11-10 09:47:28 Went a few times after Kakachi opened, using their introductory discount coupons. Food was fresh, prepared with care and the service was great. The food tasted great if I judge it in the category of "Asian" rather than "Japanese" but as with most Japanese restaurants in Rochester, it's just not going to taste authentic when the place is run by non-Japanese people who don't have sufficient (restaurant level) training or knowledge in Japanese cooking - but this place is among the better in that category. And for the record, YES, I have been to Japanese restaurants in the U.S. run by non-Japanese who do know what they are doing where the food does taste authentic, and I feel I am judging fairly. I asked the Taiwanese owner how the name of the restaurant was chosen, since "Kakachi" is not a Japanese name or word although close to "Kakashi" which means scarecrow, and I was just curious. She told me that it means "fast food" in Chinese. Unless I misunderstood her, it's a little odd as this place is definitely much better than a "fast food" place. —KairakuShugisha
---
2011-03-26 23:58:35 Had dinner here recently and was very impressed. The server looked very bored and the restaurant was empty, but it was rather late in the day. The food came out piping hot. The appetizers were freshly prepared and very tasty. The sushi was delicious and beautifully made. The sushi chef sent a lovely appetizer to our table as a little welcome gift. Very nice dinner. Definitely will be back.
---
2011-11-13 13:51:54 I think this place changed their name to "Sushi King." My husband and I went here for dinner last night (a Saturday) around 7:30, and the place was completely empty. We couldn't understand why no one was there, because we thought it was absolutely wonderful. Atmosphere, service, and food were all superb. The place was sparkling clean and nicely decorated. The waitress (possibly also the owner?) brought us a complimentary appetizer along with our salads. We then enjoyed a very unique lobster soup. Our sushi was not only delicious but also artfully presented on a plate on which the chef had "drawn" a design of a tree using various sauces. I really hope this place makes it - we would definitely come more often if we lived closer to Penfield! —AJH
---
2012-03-31 15:23:15 We hadn't been here since it was Kakachi, but we went for lunch today and it was great... the spicy scallop jalapeno roll was one of the best maki rolls I've ever had. I'm amazed that more people haven't found out about this place because it's definitely worth the visit. —GaryAR
---
2012-04-13 17:38:10 This place is amazing, consistent, fresh and tasty. The presentation is beautiful and the prices reasonable. I have never had a bad meal here. —RocDoc
---
2013-07-09 09:41:37 After 2 years of weekly visits, it's time for me to part from this place. While the barebones service and wait times of 90 minutes were once charming, it is no longer so. The food is still good, but ordering at 615 and getting food at 8pm is outside the bounds of reality. This is not omakase buy standard sushi fare. No kid or even adult with limited free time can sit for 2 hours waiting for 2 sushi rolls. There is family run charm here but it wanes by 8pm. It's time to invest in professional waiters and another sushi chef. We are done. —rocdoc