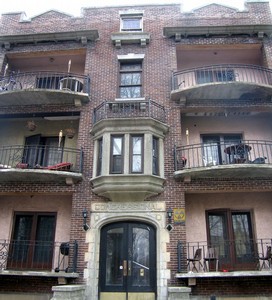 Location
275 Park Avenue, Rochester, NY 14607
Occupant
Residential
Wheelchair Accessible?
No
Pets
Yes
Property Manager
Morton Properties
Property Manager's Phone
585 473 9480
Property Manager's Website
Info Needed
Architect
Info Needed
Construction
1920
The Congressional is a three-story apartment building in the Park Avenue Area, currently owned and operated by Morton Properties. The building is also one of the least expensive places to live on Park Avenue, with rents ranging from $375 for a studio to $525 for most one bedrooms, including heat. The building has six apartments with balconies that overlook Park Avenue, which are somewhat more expensive.
Comments:
Note: You must be logged in to add comments
---
2007-05-18 10:54:00 If your moving into this building, try to get an apartment on the second floor. For some reason fewer drama occur on that floor. From time to time there may be people walking past your window on the fireescape to get from one apartment to the next. Somewhat sketchy but I never heard of any break ins. I also think people need to be aware that even though you may give Morton more than a month notice of your move, you still have to wait 4-6 weeks after moving to get back your security deposit. —KerryanneRobinson
---
2007-06-27 16:20:33 The building is quite old (probably early 1900's — I'll try to get a more accurate date soon) and has had several significant issues in the past year. A balcony on the third floor partially collapsed in September, 2006, and two tenants have reported collapsed ceilings since November, 2006. The Congressional is also home to mice, and numerous tenants reported infestation in the winter of 2006-2007. While the Congressional is generally not in good repair, Morton Properties has a reputation for responding quickly to problems.
Still, despite these problems, the Congressional's affordability and location make it a reasonably nice place to live. Tenants who are lucky enough to have balcony apartments get great seats for the Park Avenue Summer Art Festival. There's also a great sense of community in the building. Most tenants who are not transient make an effort to get to know their neighbors, and are generally friendly (studio apartments on the first and third floors turn over very regularly). —GrahamSaathoff

---
2010-01-13 22:07:15 this buildings a dump I cant see the city of rochester letting morton prop. own this place the brick is falling apart the windows are full of chipping paint and apt 39 runs the back stairway lights and apt 1b runs the front stairway lighting that I know but who knows what else ...slumloard —dontlivehere
---
2010-08-04 06:03:55 How can I get in touch with The Congressional? there is no web-page indicated, can anyone help? I their e-mail. thanks —ninodz
---
2011-12-30 13:47:51 First thought: 530$ a month for an apartment on Park Ave! Second thought: Some of the people that live in this building are mighty strange! Third thought: I really need to get used to parking on Rochester streets! That's 2 parking tickets in 2 $%&*ing weeks! Fourth thought: This apartment was occupied by a complete and utter slob, who left the entirety of her filth for me to clean! 6 rolls of papertowels and a container of multi-surface cleaner later, I JUST MIGHT be able to inhabit this place... You get the picture... The building is old, yes. I can see into the basement from my first floor apartment. I also live next to some people who would make a nice addition/subtraction from the 1st round of American Idol, though I'd never have the heart to tell them how awful their singing truly is. My neighbors scare me, they smoke in and around the building and make a great deal of noise. Also, half of them never seem to leave the building, so I'm not sure how they pay for their places. IF you are looking for stereotypical Park Avenue living, walk right by this building... If you are looking for a cheap apartment in a great location, and don't mind extraordinarily odd and sometimes unruly neighbors who blast music all day long, spew profanity in the hallways at all hours, and dealing with an old, slightly rundown building that you won't spend a lot of your time in, THIS IS THE PLACE FOR YOU! —Edward3179
---