Hello and Welcome
My pet
Himalayan cat Claude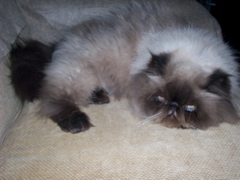 I was born in Rochester but moved away (like so many of my generation) to California for college and have since been back off and on. Now I am here permanently. (yeah Lake Effect Snow!)
Area of abode: one of those side streets off Mt. Hope near Strong and the UR. Most if not all of my neighbors and childhood friends' parents were involved with the UR. I was born and raised in this neighborhood on the edge of the City. We called the canal the Barge canal and played on the land that is now I-390 and before the towpath was paved. I went to #49 school, the building that is now Lattimore Surgery Center, part of the UR Medical Center. Then I went to Interim Jr. High in Cornhill in the late 1970s when it was a brand-new building in the still-rundown Third Ward / Cornhill area. Interim was on the top 2 floors of School #3. We had gym class on the field across from the school where the townhouses sit and there was a clear view of the river. High School I went to Harley so I had a taste of public schools and a very good private school.
Rochester is a great place! Please don't ruin it with overzealous development which will make traffic congestion even more of a nightmare!!! Also negativity can really bring you down.
Known hobbies: Hiking, Bicycling, Star Wars fixation.
6 JUNE 08: Am now doing so much in my garden / yard. There is so much to do and it is great fun. If only I can keep the squirrels out of my containers!!
Comments:
Note: You must be logged in to add comments
---
2007-06-21 09:06:10 Welcome to Rocwiki. On the City Historian - if you think there should be a page about that, please create one, and include as much info about the controversy as you'd like. Try to keep the entry factual, but feel free to include as much of your opinion as you'd like in the comments or Talk page associated with the entry. —RottenChester