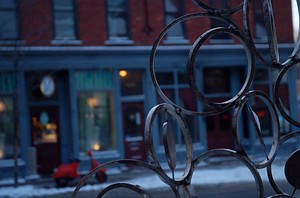 On South Ave
Location
Rochester NY's South Wedge Urban Village 14620
Email
<WedgeRedux AT gmail DOT com>
Website
http://WedgeRedux.com
Wedge Redux LLC was established in 2009 with the purpose of saving neglected historic homes in Rochester NY's South Wedge Urban Village. The community in the South Wedge has spent the last several decades building momentum in revitalizing this neighborhood in both spirit and charm. Many upwardly mobile people have begun to flock to this area looking for their own piece of history to lovingly restore. Fresh paint and smiling faces line the streets. Local businesses have taken root and provide the community with much needed services and remarkable customer care. There are no big box stores in the SouthWedge and all development must be in character with existing architecture. A stroll down any of the numerous streets is a pleasure as the homes are diverse as the personalities that live beneath their roofs.
If you're thinking of moving to Rochester's South Wedge,
check here first for your housing needs. We take great care in the selection and renovation of historic homes that offer unique period charm and convenient location at competitive prices.
Comments:
Note: You must be logged in to add comments