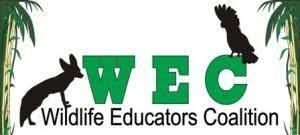 WEC Logo
Wildlife Educators Coalition was started in January of 2009 and certified 501 (c) 3 in 2016. The organization consists of an expanding number of exotic animal owners and handlers who have been working in this field for some years. We sometimes network with other wildlife groups to bring a larger variety of animals and perspectives to our programs. We are experienced in the business and the art of wildlife education.
Mission Statement: We exist to introduce children of all ages to the wonders of the natural world through their exciting personal experience with our animal ambassadors. We believe that WILDLIFE IS THE HEARTBEAT OF THE EARTH.
We have dozens of animals who participate in our programs, about 60 different species, over 100 individual animals. Our presentations include introductions to our animals, sharing their personal history and some of the funny and/or touching experiences we have had with them. We talk about their native habitat, diets, behaviors and status.
Our school programs fulfill many of New York State's educational standards in science. We work with performance artists, as well, which adds the element of arts and literature. Native storytellers, Perry Ground and Eli Thomas work with us to not only share animal lore, but the Haudenosaunee history, traditions, and the Native attitudes to our brothers and sisters with whom we walk the Earth.
We offer a range of options from a large, varied exhibit to a small, detailed presentation of one animal. We believe our message and mission are important. We believe the experience is unique, exciting and informative.
We are a serious educational group with long term plans to enrich our community.
Karin Fires
Executive Director
Comments:
Note: You must be logged in to add comments