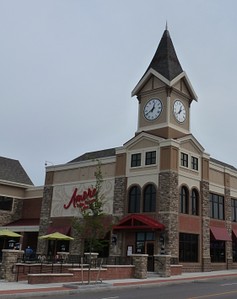 Amore Italian Restaurant & Wine Bar is an Italian restaurant that is part of the East Avenue Wegmans.
It opened on June 17th, 2013.
Comments:
Note: You must be logged in to add comments
---
2013-06-23 20:23:54 Disappointing, hopefully because it's been open only a week.
I have enormous respect for Wegmans: what they do, they do well, and I thought their Tastings restaurant was the best in Rochester while it was open. However, Amore was underwhelming. It's as if it doesn't know exactly what it wants to be: informal sidewalk cafe, Italian family restaurant, upscale dining, or advertising vehicle for their store-brand Italian products.
Little things stood out, like not getting bread with the meal. This was particularly aggravating as we were seated on the grocery store floor, separated from the prepared-foods section by a low wall, staring at the grocery's bakery, so as we waited for our food to arrive, we spent the time alternatively staring at our empty starter plates and staring at the endless parade of shoppers passing by with their newly-bought fresh bread.
Overall, the food was ok, but certainly nothing special for the price (~$30 for an entree and a vegetable side). My pork chop was nicely cooked, but the vegetable ragout had an odd, oily flavor.
Having the final bill delivered in an empty Wegmans-brand mushroom jar was also off-putting. —LePetitChien

---
2013-10-29 16:58:06 Yeah, you probably expected me to not like this place, and I'll agree that my expectations going in were rather low, but I'm basing my rating on how the place corresponded to my already low expectations, hence the 2 stars where it probably barely deserves one. Of COURSE this place isn't a 'fine Italian restaurant", but rather more like a theme park OF what people expect an Italian restaurant to be, trying to more-or-less satisfy everybody without ever taking ANY type of a chance. This place is about as Italian as that faux-Venetian lagoon in Las Vegas is!
It all started when we called for reservations. The first question the person on the phone had was "do you have any food allergies?" WTF? Are we checking into a hospital here? The time to ask THAT question would be when you sit down, if at all. When we arrived at 5:45, we found the place half-empty, even though they said that they were 'booked-up' at 6, and the place never filled up during our time there. We sat down, they gave my partner a dinner menu, and me a lunch menu. Why, I don't know.
We ordered a fried calamari appetizer, which had a very nice, light breading, but was otherwise quite bland, and could really have used some peppers. For some unknown reason, they threw lemon slices, rind included, into the batter and fried them with the calamari. Very odd... The dipping sauce was mayonnaise based, and a bit disappointingly bland.
For dinner, we ordered Rigatoni Amatricana and a Soprasetta pizza. The serving size for the pasta, which was supposedly the LARGE serving, was rather small, and was lacking in flavor. My pizza was also a disappointment, having 1 large slice of soprasetta about the size of each slice, which, of course, slid off in one piece when you bit down on it. The dough was bland, the sauce was bland, and frankly, they serve better pizza at the 'squat-n-gobble' for a cheaper price. It was quite obvious that they were using pre-made dough and sauces.
Not only was the food a disappointment, but I actually had to ASK for some cheese, crushed red pepper, and even for bread! And, needless to add, they served the bread COLD. The wines are all about $2/glass more than any other place in the area charges. For 2 people, with 1 wine and 1 beer, cost us $60. Pomadoro's would've been cheaper, much better, much tastier, and would've provided more food (and also has a full bar..). And, just in case you still had any illusion that maybe they made the sauce in-house, they give you the check inside an empty pasta sauce jar, just to add insult to injury.
Save your money, and skip this place. I'll bet that, in about 1 year, they'll probably make this place over, and turn it into a burger joint. That's about all I'd trust Wegman's to be able to do well. This place was one big, massive failure.
---
2014-03-08 09:40:41 There is one reason in particular that I love this place: 4-7pm happy hour, 7 days a week. I have really enjoyed stopping in late on a Sunday afternoon and having a $3 glass (or two) of wine before grocery shopping. I've tried one of the $10 pizzas, and also enjoyed it, although most of the food I've seen the other patrons ordered didn't look good enough to justify the price. I have no plans to sit in the dining room, or go out to dinner there, but the bar service is good enough to stop in from time to time. Of note: no liquor license yet, just wine and beer for now. —LauraShum
---
2017-10-26 17:08:16 We ate at Amore for the first time about a year ago, and as a last resort, since we had tried three other places on a Friday night that were too full to seat us. We were very pleasantly surprised, and have returned a few times since. Amore's pizza is really excellent—right up there with Fiamma's, which I think is still the best I've had in Rochester. The octopus appetizer is also outstanding, as are the salads. I've only had a pasta dish once, and thought it was OK, but not something to write home about. Free wonderfully fresh bread is always included. The wine list is also a nice surprise; mostly Italian wines, but very good regional variety, and as reasonably priced as one gets in Rochester (where wine at restaurants is almost invariably overpriced). The decor is perhaps a bit tacky, especially if one remembers mid-meal that Amore is right inside a Wegman's...but this is a quiet restaurant with no loud music where one can actually have a nice conversation! Food prices are very reasonable. About 20% cheaper than Fiamma Centro, for example. In sum, I recommend readers not to be put off by the fact that this place is attached to a supermarket and give this place a try. —carlossg