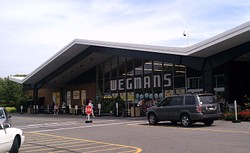 Perinton Location on Rt 31F, 6-2012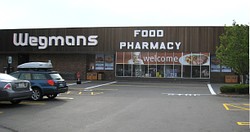 Wegmans East Avenue Location, 5-2008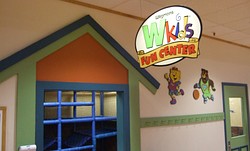 WKids Fun Center support for shopping parents - BradMandell
Support for Local Farmers - BradMandell
Wegmans is an institution in Rochester.
Ask someone what there is to do in Rochester, and they will mention Wegmans.
Wegmans is not just a supermarket, it's an experience. Open 24 hours a day (most locations), it offers:

Bakery, both In-store and Commercial


Coffee Bar


Deli Department


Floral Department


Godiva Chocolate Department (select locations)


Meat Department


Nature's Marketplace, stocking organic, natural, and vegetarian-friendly foods


Newspapers and Magazines, including their own Wegmans Menu Magazine among others.


Old Worlde Cheese Department


Patisserie (some locations)


Pharmacy Department


Pizza Department, featuring a chicken wings bar


Prepared Foods department, offering made-to-order, heat-and-eat, take or make meal options tailored to busy lifestyles


Produce Department stocked with fresh local and worldwide produce


Salad Bar


Seafood Department


Submarine Shop


Sushi department


Wokery, featuring Chinese and Thai selections
The store specializes in delivering a wide selection of high quality goods at low prices. You can find $999.00/lb truffles and vine-ripened tomatoes to star fruit and plantains; Camembert to aged cheddar; orange roughy to king crab legs; bagels to Foccacia; Budweiser to Speights; egg rolls to filet mignon; Caesar salad to rotisserie chicken; fruit tarts to organic yogurt. In short, if it isn't stocked by Wegmans, it isn't worth buying.
Wegmans' produce department uses a number of local producers and features them in advertising, bin signs, and other promotions. See
Rochester and Finger Lakes Growers for the current list. RocWiki listed suppliers include Bauman's Farm Market and Lagoner Farms.
Wegmans is the mecca of grocery stores, and while started locally here in Rochester by the Wegman family (most notably the late Robert Wegman and his son Danny Wegman), it is slowly expanding across the Northeast and Southeast while carefully maintaining the quality and presentation that makes it so fabulous. The Wegmans family purposefully limits themselves to two new stores per year to ensure that high standards of quality are always maintained. Nationally it has recently gained attention when it was cited in Fortune magazine as the best company in the U.S. to work for. Additionally, Businessweek ranked Wegmans #5 in its list of
top customer service providers in the U.S.

Handicap Note: All Wegmans are handicap accessible and have a Helping Hands program whereby employees are available to help you check out and load your groceries into your vehicle for you. Most stores have a special area close to the entryway for special loading and unloading issues.
First timers are recommended to see Super Wegmans in Pittsford. The store is an amazing tribute to suburban shopping plazas. In addition to containing all of the above and more, it also had a built in restaurant, titled Tastings, which closed in November 2009. Folks wandered to the restaurant for a champagne brunch on Sunday, or swung by to try a delicious submarine sandwich and treat themselves to a fruit tart after. Or simply grabbed a cookie from the extensive offerings and enjoy while wandering down the aisles of options. A trip at two in the morning will expose you to the youth culture of Rochester, which comes to the store in the wee hours to buy snacks or indulge after a night of partying.
To be sure, Wegmans is not to be missed.
Word has spread as far as the North Korea Times.
Oh, and note that the name has no apostrophe.
On 9/25/2008 Wegmans announced that they had
updated their company logo to the new one shown above right
New Logo downloaded from Wegman's website. See
LogoDesignLove.com for a history of the logo and discussion of the change.
Locations
The Wegmans website has a clickable Store Locator 1 that shows their vast empire of 89 stores - including: 46 in New York (18 in the Rochester Area), 17 in Pennsylvania, 7 in Maryland, 7 in New Jersey, 8 in Virginia, and 4 in Massachusetts.2
Name
Address
Municipality
Neighborhood
Wegmans Brockport
6660 Fourth Section Road
Route 31
Brockport
ditto
Wegmans Calkins Road
745 Calkins Road
Henrietta
Residential parts of Henrietta
Wegmans Canandaigua
345 Eastern Boulevard
Canandaigua
ditto
Wegmans Chili-Paul
3175 Chili Avenue
Chili
Chili Center
Wegmans East Avenue
1750 East Avenue
Rochester
Only one within Rochester City boundaries
Wegmans Eastway
1955 Empire Boulevard
Penfield
Webster/Penfield
In plaza across from Baytown Plaza
Wegmans Fairport
Fairport Rd & Marsh Roads
East Rochester
border of Pittsford, East Rochester,
Perinton close to Fairport
See also Wegmans Plaza - Country Club
Wegmans Geneva
300 Hamilton Street
Geneva
wide area around Geneva
Wegmans Geneseo
4287 Genesee Valley Plaza
Geneseo
wide area around Geneseo
Wegmans Holt Road
900 Holt Road
Webster
Webster
See also Wegmans Plaza - Holt Road
Wegmans Irondequoit
525 Titus Avenue
Irondequoit
ditto
Wegmans Latta Road
3177 Latta Road
Greece
Northern part of Greece
Wegmans Lyell Avenue
2301 Lyell Avenue
Gates
ditto
Wegmans Marketplace
650 Hylan Drive
Rochester
Commercial part of Henrietta
Wegmans Mt. Read
3701 Mt Read Boulevard
Greece
close to northern neck of Rochester
Wegmans Newark
Miller and Finch Streets
Newark
wide area around Newark
Wegmans Penfield
2157 Penfield Road
Penfield
ditto
Wegmans Perinton
6600 Pittsford-Palmyra Road (Route 31)
Perinton
Fairport/Perinton/Victor
Wegmans Pittsford
"Super Wegmans"
3195 Monroe Avenue
Pittsford
Pittsford Plaza bordering on Brighton
Wegmans Ridge-Culver
2200 Ridge Road East
Irondequoit
Across from Regal Cinema Plaza
Wegmans Ridgemont
2833 Ridge Road West
Greece
Greece kinda near mall
See also Wegmans Plaza - Ridgemont
Closed:
| | | | |
| --- | --- | --- | --- |
| Wegmans Henrietta | 2599 East Henrietta Road | Henrietta | *CLOSED 8/23** |
| | | | |
| --- | --- | --- | --- |
| Wegmans Britton Road | 3660 Dewey Avenue | Greece | *CLOSED 7/30/11** |
Exceptions: Stores close early on Thanksgiving, Christmas Eve, and New Year's Eve; they are closed Christmas Day.
Awards
2016 Fortune Magazine: #4 Best Company to Work For


2015 Fortune Magazine: #7 Best Company to Work For


2014 Fortune Magazine: #12 Best Company to Work For


2013 Fortune Magazine: #5 Best Company to Work For


2012 Fortune Magazine: #4 Best Company to Work For


2011 Fortune Magazine: #3 Best Company to Work For


2010 Fortune Magazine: #3 Best Company to Work For


2009 Fortune Magazine: #5 Best Company to Work For


2007 Food Network Awards: Super Markets


2007 Fortune Magazine: #3 Best Company to Work For


2006 Fortune Magazine: #2 Best Company to Work For


2005 Fortune Magazine: #1 Best Company to Work For


2004 Fortune Magazine: #9 Best Company to Work For


2003 Fortune Magazine: #10 Best Company to Work For
Local Awards
Voted "Best Place to Take an Out-of-Towner" and "Best Place to Meet Singles" in City Newspaper's 'Best of Rochester' Awards in 2015.34


2010 City Newspaper 'Best of Rochester awards - "Best Local Twitter Feed", "Best Local Company", and "Best Place to Take an Out-of-Towner"


2009 City Newspaper 'Best of Rochester' awards - "Best Public Bathroom" and "Best Local Company"
Controversy
Compassionate Consumers has been publicizing the conditions they discovered at the
Wegmans Egg Farm, documented on videotape and in the accounts by several participants. Wegmans may be one of the top employers to work for in the U.S., but they still keep their chickens in
battery cages. Read about the documentary here. The company sold its controversial egg farm in Wolcott, Wayne County, to Kreher's Poultry Farms in October 2007.
In March 2003, Wegmans sent a representative to the Upper Mount Hope Neighborhood meeting who discussed changes to their Mount Hope store: they planned to upgrade it as it was one of the first stores they ever built. The plans were wonderful and would have been a great boost to the neighborhood. However, in September 2003, after starting renovations, declared they were closing the store. The reasons revolved around money: either the store wasn't profitable enough, or the renovations were too costly. Although the neighborhood suffered from the lack of a grocery store, the building eventually sold to the University of Rochester Medical Center and was converted to a parking lot in December 2005.
This was representative of bigger changes to some of their fundamental operating policies. While once they were the "neighborhood supermarket," they have now closed almost all their stores in the City of Rochester and switched to a model where they exclusively seek maximum profits. As of 2007, the only retail location inside the City of Rochester is their
East Ave store.
In the Media
Several Wegmans products can be seen on the hit television show,
The Office, starting in the Fall 2007 season. From Soy milk, to cereal, to WPOP.

COMMENTS
Go to Talk Page or click on Talk Button above for Comments and Discussion
1No link here because changing web design frequently makes the links unusable.
2As of Sep 9, 2008 - See Store Locator List for source.