The Village of Fairport
Location
Southeast of Rochester, in the town of Perinton, Monroe County, New York

Village of Fairport, Monroe County, New York

Google map
Fairport
Geographical Area
1.6 sq. miles
Population
5,353 as of the 2010 census
Incorporated
1867
Village website
http://www.village.fairport.ny.us
Village Offices
Fairport Village Offices
Wikipedia article
Fairport, NY
About Fairport

The Village of Fairport was a major port on the Erie Canal and is a tourist and recreation attraction with canal-side shopping and eating establishments as well as a developed small-town business area.
Notable Attractions
Fairport Electric
Fairport has its own electrical company (one of several in the state) which results in electricity rates that are 1/2 to 1/3 the amount of standard electrical rates.


Another Fairport Electric page
History
Fairport was incorporated in 1867, having sprung up as a minor manufacturing foothold in the early days of the Erie Canal.
Fairport School District
Fairport Zip Code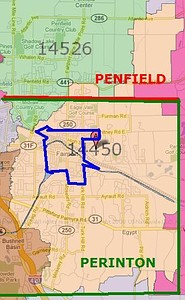 Fairport Zipcode Overlaps - See Footnote
Many local residents think of Fairport in terms of the "Fairport Zip Code", 14450, shown at right in flesh-tone pink in the graphic 1.
The zip code covers all of the Village of Fairport, which is the limited, small area outlined in blue.
However, the zip code also covers a majority of the Town of Perinton as well as parts of the Town of Penfield. In fact, there are no "Perinton" addresses; Perinton residences use Fairport, Victor, Pittsford, Penfield, or Macedon mailing addresses.

See Also
Comments:
Note: You must be logged in to add comments