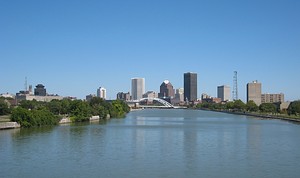 Rochester skyline as seen from the bikepath near the U of R, 8-2008
Rochester, NY is located in the center of Western New York, the portion of NY which sits atop Pennsylvania. Census data for 2010 shows Rochester having 210,565 residents living within the City of Rochester, and a total of 1,079,671 in the Greater Rochester Area. City population continues to decline while suburban population continues to grow slowly.
Borders
Rochester is bordered by Chili to it's southwest, Gates to it's west, Irondequoit to it's northeast, Brighton to it's south and east, and Greece to it's northwest. A tiny bit of it also borders Irondequoit to it's south, west, and east. It touches Lake Ontario to it's north and the Genesee River cuts it in half. Seneca Park Zoo is on the border between West Rochester and Irondequoit.
In 1811 Colonel Nathaniel Rochester and his partners surveyed their land and offered lots for sale in Rochesterville. Rochester was incorporated as a city in 1834, primarily on land purchased from the
Seneca Indians about 50 years earlier. The Genesee River was the economic engine of the era, powering numerous mills that led to Rochester being labeled the Flour City. Shoe and clothing manufacturing and the nursery industry replaced milling as the economic focal point between 1850 and the turn of the century.
Irish laborers for the Erie Canal and German tailors and seamstresses comprised a large percentage of the non-native population of the 1800s, but a tidal wave of Italian immigrants began arriving in 1900 and has remained influential since.
Bausch and Lomb and Gleason Tool led the manufacturing charge after the
Civil War, but George Eastman's Brownie camera became the single most significant invention of the region and spurred substantial job growth until the
Great Depression made photography too much of a luxury for the common man. But
World War II created a need for optics, precision grinding and other manufacturing, and then came the introduction of the electrophotographic copier by Haloid/Xerox.
The end of the war was also the start of suburban growth. The city's population loss was initially offset by the migration of blacks from the south in search of manufacturing jobs. But hand-in-hand with that came stress on the infrastructure — housing, schooling and medical services — and Rochester was slow to react. According to the PBS Documentary July '64, Rochester's major employers refused to hire or promote African-Americans, despite record low unemployment rates.
Three days of riots broke out in July 1964, resulting in four deaths and numerous arrests. Saul Alinsky, an organizer of note according to some and a rabble-rouser according to others, soon arrived and the FIGHT organization (Freedom, Independence, God, Honor, Today) brought forth gifted black leaders including the Rev. Franklin Florence and Dr. Bernard Gifford.
Later William A. Johnson Jr. became the city's first black mayor in 1994, stepping into a most challenging era for Rochester. Kodak has shriveled to a mere shell of its old self, overwhelmed by complacency in the early days of the digital photography boom. Both Xerox and Bausch and Lomb have also reduced their presence in the region. Meanwhile the health care industry, higher education and smaller technology companies have become important drivers of the area's economy.
Random bits:

Areas of the City are defined by Rochester Neighborhoods as well as Real Estate Quadrants and still a few Wards.
Principal Suburbs:

See also:

More Info:
This whole wiki is about Greater Rochester so head on over to the
homepage and check out what people are saying.
Were you looking for another Rochester?

Comments:
Note: You must be logged in to add comments
OK, gang. I've taken a first shot at this entry, but it still amounts to little more than deck chairs on the Queen Mary. Please add some size, shape and direction to it. I'll be more than happy to make passes through it from time to time to flesh out any sketchy thoughts/outlines. — [JohnMoriello]

---
2005-10-14 14:59:45 hmm, I'll try to gather some basic, current information from the city website and the county —RossHattori
---
2007-06-21 10:50:19 Need some stuff about Seth Ebenezer Allen. He was the first permanent white settler in what is now downtown Rochester. Arch Merrill's Sketchbook has been digitzed.
http://www.rootsweb.com/~nymonroe/book/sketchbook-1.htm—CarolLucky

---
2022-04-26 01:24:18 Rochester Elite Soccer Academy is one of the best soccer training academies in Rochester NY. We offer high-level soccer training from professional coaches who possess exceptional soccer skills. Here, students get everything they need to reach the next level of soccer and grow both on and off the field. Call 585-737-7113 to Register Now! Visit: https://rochestersocceracademy.com/ —rochestersocceracademy