For an extensive list of area libraries of all types, see the Rochester Regional Library Council website.
Monroe County Library System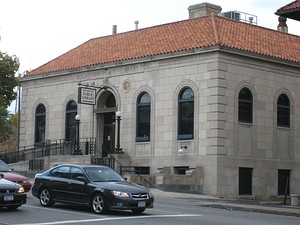 Library on Monroe Ave near 490, 10-2008
The Monroe County Library System consists of eleven city library branches and over twenty affiliated town libraries. The MCLS website has a full list of local branches and their current hours.
The entire collection of the Monroe County Library System can be searched online. Many libraries are now offering WiFi, and most also have public-access PCs connected to the Internet. Many local libraries have activities like story hour or author visits which are advertised on each library's website.
To use most library services, including checking out materials, requesting holds and using WiFi in some locations, a library card is required. Cards can be obtained in person at any branch. You'll need to provide proof of a Monroe County address to get a free card.
The Monroe County Central Library is the downtown branch most often associated with the City of Rochester, and the biggest of the libraries. See its own RocWiki page, as well as those for the Brighton Memorial Library, Greece Public Library, Fairport Public Library, Henrietta Public Library, Irondequoit Public Library, Pittsford Public Library, Penfield Public Library and Webster Public Library.
In recent years, funding for the libraries has been cut. This has led to staff cuts, a reduction in hours and resources, and new fees for once-free services (like holds). Public-access PCs are often fully utilized at peak times — expect to wait or reserve time in advance. Popular items like best-sellers, DVDs, videos and CDs are also usually checked out. Sometimes, a popular item may be available from another branch.
Monroe County Academic Libraries
Special Collections
The Cary Graphic Arts Collection at the Rochester Institute of Technology is one of the world's premier libraries on graphic communication history and practices, holding more than 45,000 volumes and 130 archival collections.

The Richard and Ronay Menschel Library, at the George Eastman House. From their website: "The Richard and Ronay Menschel Library contains a comprehensive collection of the literature of photography and a research-level collection of the literature of motion pictures. It is both an informational resource and a collection of artifacts." Open to the public by appointment 10am to noon and 1pm to 4pm, Tuesday through Thursday.

The Xerox Corporate Library. 800 Phillips Road, Webster NY. Offers access to Xerox historical documents, internal reports, lab notebooks, print industry journals, and a small selection of technical and business books. Open to Xerox employees, contract workers, interns, and retirees, 8:15am to 5pm, Monday through Friday.

Eastman Kodak Library, located at the Research Laboratories on Lake Ave.

Schuyler C. Townson Library, at Rochester Museum & Science Center. Open 9:30 to Noon and 1:00 to 4:30, Tuesday through Friday. From their website: "The library's holdings reflect the strengths of the museum's collections. Thus, materials relating to Iroquois studies, early Euro-American technology, Rochester businesses, fashion and costume, museology, and collections care are particularly numerous, and in some cases, unique." They also house the Stone Photograph Collection, which can also be viewed (here... enter library's photo site). Contact the library at 585-271-4552, X-315, or visit their website.

The Rochester Historical Society Library, now co-located at the Central Library. According to their website, the "definitive source for historical and genealogical research in Rochester." Visit Tuesday-Thursday 10:00AM to 3:00PM or by appointment... call 585-428-8470.

The Charlotte Whitney Allen Library at the Memorial Art Gallery is open to the public for research purposes.

The GAGV Library & Archives is one of the most unique collections of fiction, nonfiction, periodicals and rare books in the Rochester region. The archives houses the Empty Closet Newspaper, as well as documenting the rich diverse cultural heritage of the Gay Alliance of the Genesee Valley's administrative history and the greater Rochester and Western New York area's lgbt community. For more information and hours of operation, please call 244.8640.
Regional Libraries
Nearby library systems include
Wayne County Libraries and the
Batavia Library.
Little Free Libraries
There are a number of little free libraries throughout Rochester and the surrounding areas. They can be found by searching the map on the
Little Free Library website.