Monroe Community College (MCC) is the local community college, although it has a national reputation for excellence among community colleges. It's known for having an amazing array of professors for a community college and being the largest community college in Upstate New York. In fact, it is the largest college of any kind in Upstate.
MCC is accredited by the Middle States Association of Colleges and Secondary Schools. Curricula are registered and approved by the New York State Department of Education.
The College is a member of the League for Innovation in the Community College. The League provides direction and leadership for experimentation and innovation in two-year colleges. Its members are recognized as the best community colleges in the United States and Canada.
History
Established in 1961 as a unit of the State University of New York (SUNY), Monroe Community College was established to address the concern of community leaders about the need for nurses in the Rochester area. MCC began then and still today prepares students to work in local hospitals and health care facilities. MCC became part of the State University of New York system, and its program offerings were expanded to prepare graduates for a wide range of job fields or transfer to four-year institutions. MCC's first class - 720 students - enrolled in September, 1962. Since then, enrollment has increased steadily and new programs continue to be added to meet the changing requirements of the local community.
MCC's Housing and Residence Life program was launched in 2003 on the college's Brighton Campus and was expanded in 2007. The residence hall complex is named for Dr. Alice Holloway Young, a pioneer of Rochester public education and a founding trustee of MCC1.
The student paper at MCC is called the Monroe Doctrine
Approximately 50,000 people have received MCC degrees; more than a quarter of a million people have taken one or more MCC courses.
The Campuses
MCC's Brighton Campus is located on a 300-acre site at the junction of routes 390 and 590, just outside the city limits of Rochester, New York. The wireless campus includes technologically-advanced academic classrooms and learning facilities.
Opened in September 1998 (as the ESL Sports Centre, later Sports Centre at MCC), the four-rink Bill Gray's Regional Iceplex, located on the southeast corner of MCC's Brighton Campus, is a practice facility for Rochester's professional hockey, lacrosse and soccer teams. The Iceplex also serves the entire Rochester community through a broad range of activities including open skating, hockey league games and learn-to-skate classes.
The multi-faceted Public Safety Training Center - a partnership of Monroe County, the College, state and local public safety agencies across the area - opened in 2001 at 1190 Scottsville Road. The facility trains nearly all of the area's police and corrections officers, firefighters and emergency medical personnel.
In early 1997, MCC opened the Applied Technologies Center, a 53,000-square-foot facility that houses programs in automotive technology; heating, ventilation and air conditioning, optical fabrication and precision machining.
In 1992, the College opened its Damon City Campus at 228 Main Street, in downtown Rochester. The Damon City Campus is home to MCC's programs in human services, law and criminal justice and teacher education and offers a breadth of liberal arts courses. The campus also houses distinctive programs for the community including Gateway to College at MCC and the Science Technology Entry Program. On October 21, 2015 a ground breaking ceremony was held at one of the buildings of Kodak headquarters to redevelop and move the downtown campus in 2017.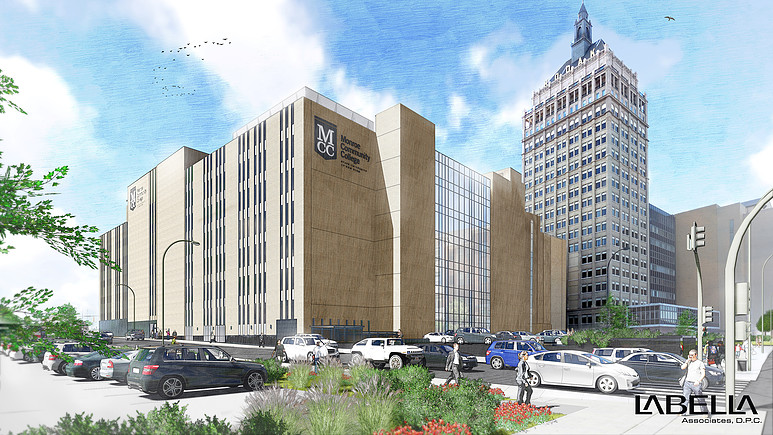 New Damon Campus Provided by Labella Associates
Degrees & Programs
Degrees Granted
Associate in Arts (A.A.)
Associate in Science (A.S.)
Associate in Applied Science (A.A.S.)
Certificate Programs are offered for students seeking a high degree of specialization in a short program of instruction. Certificate programs vary from 25 to 32 credits.
Degree and Certificate Programs
Cooperative Degree ("2 + 2") programs with Alfred University, NYS College of Ceramics; SUNY at Buffalo; SUNY College of Environmental Science and Forestry; SUNY Colleges at Brockport, Buffalo, Fredonia, Geneseo and Oswego; SUNY Health Science Center at Syracuse; Clarkson University; Hobart and William Smith Colleges; Keuka College; Nazareth College; Niagara University; Rensselaer Polytechnic Institute; Roberts Wesleyan College; Rochester Institute of Technology; St. Bonaventure University; St. John Fisher College; and the University of Rochester.
Associate degree programs offered at MCC include:
Accounting
Advertising: Commercial Art
African-American Advisement Sequence
Air Conditioning (HVAC)
American History Advisement Sequence
Automotive Technology
Biological Technology
Business Administration
Cinema & Screen Studies
Communication/Media Arts
Computer Information Systems
Computer Science
Computer Systems Technology
Construction Technology
Criminal Justice: Corrections Administration
Criminal Justice: Law Enforcement Certificate
Criminal Justice: Police
Culinary Arts
Dental Assisting
Dental Hygiene
Education - Elementary and Secondary Education Transfer
Electrical Technology
Emergency Medical Services
Emergency Medical Technician - Paramedic
Engineering Science
Entreprenuerial Studies
Fine Arts
Fire Protection Technology
Food Service Administration
Global History Advisement Sequence
Health Information Technology—Medical Records
Health Studies
Heating, Ventilating and Air Conditioning
Hospitality Management
Hotel Management
Human Services
Information Technology
Interior Design
International Business
Law Enforcement
Liberal Arts:
- General Studies
- Commercial Illustration
- History/Political Science
- Human Ecology
- Human Services
- Landscape Architecture
- Mathematics
- Social/Behavioral Science
Massage Therapy
Mathematics Advisement Sequence
Mechanical Technology
Medical Transcription
Music
Mechanical Technology
Natural Sciences:
- Biology
- Chemistry
- Environmental Science
- Geosciences
- Physics
- Pre-forestry
- Pre-pharmacy
Nursing
Nutrition Advisement Sequence
Office Technology-Clerk-Typist
Office Technology-Administrative Legal Office Assistant
Office Technology-Administrative Office Assistant
Office Technology-Medical Office Assistant
Office Technology-Office Administration Management
Office Technology-Information Processing
Optical Systems Technology
Paralegal Studies
Performing Arts, Music
Physical Education Studies
Political Science Advisement Sequence
Precision Machining
Precision Tooling
Radiologic Technology
Social And Behavioral Science Advisement Sequence
Teacher Education Transfer
Tooling and Machining
Travel and Tourism
Visual Communication Technology: Graphic Arts - Printing
Visual Communication Technology: Photography -Television
You can complete several programs entirely online, with courses offered by MCC and other SUNY institutions.
More fast facts:
http://www.monroecc.edu/etsdbs/pubaff.nsf/MCCFacts/Student+Profile?OpenDocument