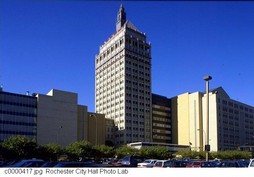 Kodak Tower was built in 1916. At 16 stories, it was the tallest building in Rochester. When the design of Times Square Building was released, George Eastman added three additional floors and a spire to the Tower in order to maintain the status of tallest building in town.
Currently the building, located on State Street near High Falls, houses the corporate headquarters of Eastman Kodak. Carestream Health, a Kodak spin-off, now owns part of this building complex as well and uses it as its headquarters. Additional parts of the complex are for sale as Kodak continues to downsize. In 2015 one of the buildings was sold to Monroe county and is being developed into the new MCC Damon Downtown campus.
For many years, a pair of peregrine falcons nested in a box located in the spire. The nest box had to be relocated to the Times Square Building when Kodak performed a multi-year restoration of the upper floors, and to date it has not been returned.
Many upper floor offices in the Tower have a magnificent view of events held at the nearby Frontier Field.
To participate in a survey on local architecture visit,
Rochester Archipedia Survey
Comments:
Note: You must be logged in to add comments
---
2008-06-02 01:00:37 I worked in the tower and I loved it. They have a wonderful cafeteria with an amazing view in the tower. There appears to be a lot of crime in this area, though, and I had co-workers who had their cars broken into in the parking lot (which Frontier Field shares with Kodak). —MariahBetz