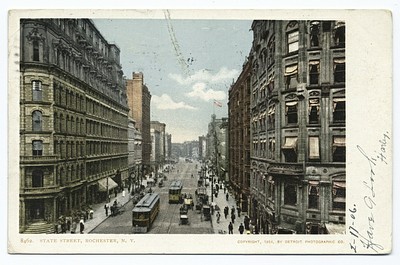 View of State Street, circa 1904
Location
Travels north-south through the west side of downtown
Boundaries
North - Smith Street
South - Main Street
Length
Approx. 1 mile
State Street is a downtown city route that has its southern origin at the Four Corners, where Main Street splits into East and West, and Exchange Boulevard becomes State. State continues north until it reaches the intersection with Smith Street, a tad south of Lyell Avenue, where it turns into Lake Avenue. Other important intersections include Church Street, Andrews Street, and the Inner Loop.
The neighborhoods State passes through are Four Corners, the High Falls District, and Brown Square. The State Street Historic District consists of the buildings at 109-173 State Street. Just off of State Street are the High Falls and Frontier Field.
Not to be confused with State Street in Pittsford.
Located on State Street
Traveling north.
Comments:
Note: You must be logged in to add comments