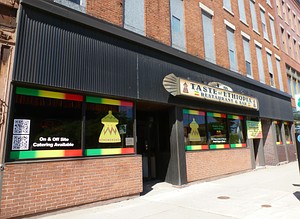 Taste of Ethiopia was an Ethiopian restaurant in the Four Corners neighborhood downtown. Dinner followed the traditional practice of eating from a communal bowl with your hands (no utensils provided except by request). Lunch was buffet-style. You could also participate in an authentic Ethiopian coffee ceremony.
There were several vegetarian options and a couple vegan.
Taste of Ethiopia opened January 6, 2014. As of March 2017 they have closed their current location, as they look for a new location but their Catering business is still available.
Comments:
Note: You must be logged in to add comments
---
2014-02-17 07:29:33 My boyfriend and I went here on the evening of Sunday 2/16. We were frequent visitors of the Ethiopian restaurant Meda when it was open and we also go to Abyssinia (another local Ethiopian place) from time to time so we are no strangers to Ethiopian cuisine. We arrived around 6:40. There are two dining areas: a traditional Ethiopian eating area with basket "tables" and soft animal skin seats or a more American dining area with regular tables and chairs. We opted for the traditional area. We ordered "Sampler B" which includes 4 portions of beef, poultry, or vegetarian dishes of your choice and a couple cups of coffee. For the Sampler platter, we ordered some Gored Gored (rare cubed beef), Mesir Wat (split lentil stew), gomen (vegetable), and another sort of beef stew that I can't remember right now.
The coffee came out right away and was delicious. We were told that they were very busy that night (there was no one at the time besides us in the traditional seating so I assumed the other dining area was full) and so our food would take a bit longer than usual. We were fine with this.
This is the where the trouble begins. We waited and waited. The total wait time was an hour. No server came by to give us an update on our food or to ask if we'd like more coffee or water. We felt very ignored and didn't know what was going on. After waiting 45 min, I wondered if we had been forgotten. Lots of the servers socialized at the bar area while we were ignored. I honestly considered paying for the coffee and leaving. The only contact we got from a waiter was at 7:40PM to tell us that our "food was coming" and I think he only came over because he could see from the bar that we were unhappy and looking around. We didn't get our food until 7:45 PM, so over an hour wait. After the food arrived, they were immediately very apologetic (big change from feeling ignored earlier) and we were told that it "takes time to cook everything". Okay, but most of what we ordered was stew which would have been cooked in advance because most of those dishes are slow cooked. So I don't really understand why it took so long.
While the food was not greasy (always a plus), I didn't feel it was worth the wait. The Gored Gored was a bit fatty which required a ton of chewing in order to eat because it is cooked rare. That was a little unpleasant. The other beef stew had very overcooked beef pieces that were tough like overcooked pork. Mesir Wat was good. The injera was very thin and, compared to the injera at the other local restaurants, broke apart very easily. So that was a little disappointing. Also, the portions were very small. The platter would have been enough for one person but not enough for two.
We ate very quickly and decided to pay and leave. I think they could sense that we were unhappy because they kept repeating how sorry they were. I'm thinking we may be back in a few months to see if they improve because I understand they are a new place and thus may be going through growing pains. But waiting an hour for that food was very unacceptable. If you are going to make the customer wait that long, at least be attentive and give them updates and make sure to keep their waters/coffees topped off. Had they done that, I wouldn't be here writing this rather negative review.
I hope they realize how unhappy we were and use it as a learning experience. I truly hope they improve on both their service and their food. It would be wonderful to have another Ethiopian place to frequent. —RochFoodie