East Main Street, as the name implies, is the eastern part of Main Street in Rochester.
Sections
Four Corners
East Main Street has its eastern beginning at Four Corners in the center of the city. This refers to the intersection of East Main Street, West Main Street, and State Street to the north and Exchange Street to the south. This was the site of some of the city's earliest buildings.
Located here:
Convention District and Midtown District
East Main Street then crosses the Genesee River. From here to the Liberty Pole, this section falls in the Convention and Midtown Districts. Here, East Main is highly developed and fronted with many multi-storied buildings, although the Main St. East/North Clinton Avenue Retail District remains a source of blight. North Clinton Avenue is an important intersection.
East End, Grove Place, the Alexander Neighborhood
Eastward from the Liberty Pole, East Main Street forms the border between the East End and Grove Place. Here it is faced by lower buildings of one to six stories until it crosses over the Inner Loop expressway, which is popularly considered the boundary of Rochester's downtown. Moving east from there to Alexander Street is the Alexander Neighborhood, similar in character to the East End. Here, East Main is a small commercial district of restaurants and auto services.
Important intersections here are East Avenue, Chestnut Street, Gibbs Street (where the Eastman School of Music is located), Scio Street, the Inner Loop, and University Avenue. The Eastman Theater backs up to this part of Main.
Marketview Heights and NOTA
Crossing Alexander Street East Main becomes the boundary between Marketview Heights to the north and the Neighborhood of the Arts to the south. It passes over a high railroad bridge and intersects with North Goodman Street. Another important intersection is Prince Street.
EMMA and Beechwood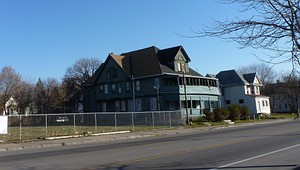 Alas.
Once past North Goodman, East Main then continues east to Culver Road, past a mixture of light industrial, service, and residential buildings. This is the Beechwood neighborhood and its sub-section EAMMA. Unfortunately, this is easily the worst part of East Main. It is lined with many dilapidated and abandoned buildings and is overall something of a city eyesore. As far as safety goes, however, it is generally fine during the day and well-traveled.
Culver-Merchants and North Winton Village
East Main quickly cleans up once it crosses Culver Road and enters the popular Culver-Merchants and North Winton Village neighborhoods (they overlap). The defining feature of this intersection is East High School, which supports a few fast-food restaurants in the area. Continuing the east, Main Street runs past residences, storefronts, and former residential properties converted to office space. A sprinkling of dozen-unit apartment buildings dot this section of East Main Street, as well as several restaurants and bars.
East Main from Kansas Street to North Winton is also part of the Pocket Neighborhood. A small portion of East Main is also part of the area served by North East Main Neighbors United.
East Main Street ends at North Winton Road, amid a cluster of commercial and residential buildings, including a minor shopping plaza, services, and a few nicer eateries.
Comments:
Note: You must be logged in to add comments