Village Idiots at the Village Gate, Dec 2011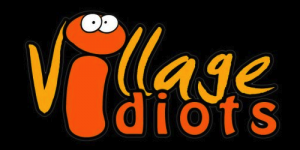 Improv Comedy for Rochester, NY
The
VILLAGE IDIOTS Improv Comedy is an improvisational comedy theatre company that performs on a weekly basis and runs regular improv comedy classes for adults and teens. Since their inception in 2008, the Village Idiots have: performed weekly improv shows, raised money for various charities, held bi-yearly tournaments, hosted four annual improv festivals, and celebrated New Years's by exploding Diet Coke bottles and Mentos candy. In addition to doing both short-form and long-form, they have done improvised Shakespeare, improvised musicals, improvised puppet musicals, and improvised parodies of Gilligan's Island, Star Trek, and the West Wing. Several improv teams/groups in the Rochester community got their start at the Village Idiots, including the award-winning teams: Pandas and Fake Snow and Plan B.
They troupe began in an artist studio on the 3rd floor of Village Gate, moving to various larger areas until leaving the Village Gate in October of 2013. They continued to meet in a small rehearsal space on Garson Ave, occasionally doing shows at Writers and Books and RIT, until May, 2014 when they became artists in residence at the Bread & Water Theatre. In 2017, the moved Rochester Greenovation on East Main Street.
See the Events Board for show dates. They also provide classes for adults and teens.
Auditions for the cast are held on a rolling basis. No experience necessary. People of color and women highly encouraged to audition.
Village Idiots announced they were disbanding on July 6, 2016.
Comments:
Note: You must be logged in to add comments