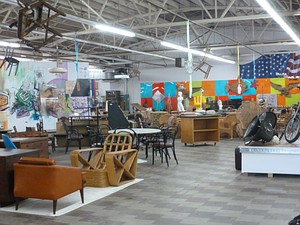 Store interior, with view of street art exhibit to the right. (Aug. 2012)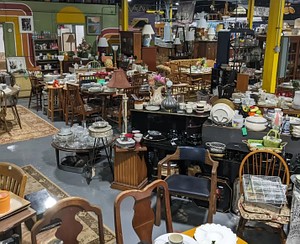 Store interior (March 2023)
Regular Hours
Monday - Friday: 10:00AM to 6:00PM
Saturday: 10:00AM to 4:00PM
Sunday: Closed
As of August 2023, the store is temporarily closed following their move. They hope to be open soon.
Email
<rochestergreenovation@gmail DOT com>
Connect with Us
Facebook
Web site
Rochester Greenovation is a 501(c)(3) nonprofit corporation. Their mission is to keep things out of the landfill, help people in need, and support local artists. They operate a second-hand store run entirely by volunteers.
Comments:
Note: You must be logged in to add comments
---
2013-01-26 07:30:46 Came here expecting the VOA or Vietnam thrift store. I was surprised when they told me they closed, but this place is 10x better. They said it's NOT a thrift store but you can still find insane deals on stuff. Plus Utter Clutter was there. 4 or 5 different shops, I think, with all kids of stuff for your home. They do recycling or "upcycling" classes, there's a gallery. This place is crazy. Something for every budget. My only complaint was that there was renovations happening and some parts were hard to walk through, but they told me it would be over in a couple of weeks. I will come back many times! —JimKeenan
---
2013-05-14 08:49:06 I cannot visit because there is nowhere even remotely close to your front door to park my bicycle. —abnormalcy
I have a bicycle and I visit all the time. Leave it inside in the front, where they can watch it. I u-lock my back wheel to the frame. —EileenF

---
2015-12-03 03:23:23 immature managers...argued with me and tried to overcharge me for an item that was not priced....the item was in an area for under $5. Also, very discriminating when I told them the item I was purchasing was for a school, they told me they won't help me because it's a private school not a city school...teachers buy their supplies to help educate children...private or not it SHOULD NOT MATTER....lost my business..too bad ..supporting other local businesses not this one ... —C.apple2
---
2016-01-15 14:05:34 Rochester Greenovation is under new management who are looking to revitalize the store. This is not a thrift store, but they do have a unique collection of items that were donated, as well as items that were made by local artists. —MargeauxA