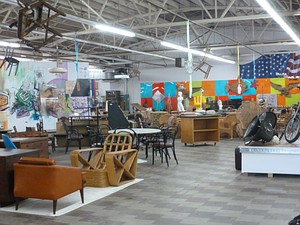 Store interior, with view of street art exhibit to the right. (Aug. 2012)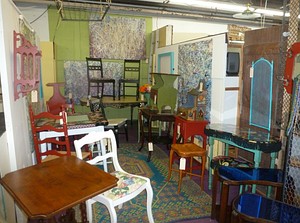 Refinished furniture.
Location
1199 East Main Street, Rochester, NY 14609
Hours (as of May 2013)
Tuesday - Friday: 11:00AM to 6:00PM
Saturday: 9:00AM to 4:00PM
Sunday - Monday: Closed
Phone
585 288 7564
Wheelchair Accessible
Yes
Email
<info AT rochestergreen DOT org>
Website
Facebook
Feed
LinkedIn
Twitter
Rochester Greenovation is an environmental group and 501(c)(3) nonprofit corporation. Their primary mission is the deconstruction of abandoned houses piece-by-piece so that the materials can be upcycled and reused instead of ending up in a landfill.
Green Center
In April 2012 Greenovation opened a new headquarters, reuse center, and "Green Market" in the former Vietnam Veterans of America building in the EMMA neighborhood. From this location Greenovation sells many second-hand items, such as books, knick-knacks, dishes, lamps, LP's, furniture, artwork, and architectural salvage. The space also has several independent vendors, including the famous Utter Clutter, as well as an art gallery and facilities for events and performances. The grand opening was July 21, 2012.
Recycling
Rochester Greenovation will recycle just about anything with the exception of Styrofoam. They will take electronics, large and small appliances, plastic bags, and other materials not accepted by Monroe County. Bring your items to the front counter at the Green Center.
From the Website
Waste diversion is what we do. We have multiple programs to educate the Rochester community about diverting waste from local landfills. Our Deconstruction Program targets one of the area's largest waste sources, construction and demolition debris, and turns it into an economic and educational opportunity. Our Creative Reuse Program unites local talent with our waste stream to create and innovate with re-purposed materials. Finally, our Community Initiatives Program aims to re-invest in the communities that need it most, benefiting the local economy by creating jobs and beautifying local neighborhoods.
Links
Comments:
Note: You must be logged in to add comments
---
2013-01-26 07:30:46 Came here expecting the VOA or Vietnam thrift store. I was surprised when they told me they closed, but this place is 10x better. They said it's NOT a thrift store but you can still find insane deals on stuff. Plus Utter Clutter was there. 4 or 5 different shops, I think, with all kids of stuff for your home. They do recycling or "upcycling" classes, there's a gallery. This place is crazy. Something for every budget. My only complaint was that there was renovations happening and some parts were hard to walk through, but they told me it would be over in a couple of weeks. I will come back many times! —JimKeenan
---
2013-05-14 08:49:06 I cannot visit because there is nowhere even remotely close to your front door to park my bicycle. —abnormalcy
I have a bicycle and I visit all the time. Leave it inside in the front, where they can watch it. I u-lock my back wheel to the frame. —EileenF

---
2015-12-03 03:23:23 immature managers...argued with me and tried to overcharge me for an item that was not priced....the item was in an area for under $5. Also, very discriminating when I told them the item I was purchasing was for a school, they told me they won't help me because it's a private school not a city school...teachers buy their supplies to help educate children...private or not it SHOULD NOT MATTER....lost my business..too bad ..supporting other local businesses not this one ... —C.apple2
---
2016-01-15 14:05:34 Rochester Greenovation is under new management who are looking to revitalize the store. This is not a thrift store, but they do have a unique collection of items that were donated, as well as items that were made by local artists. —MargeauxA