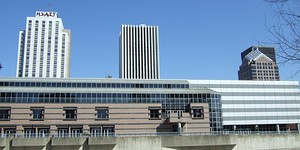 Along the Genesee River - BradMandell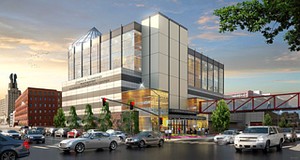 Potential Expanded Convention Center from corner of Broad St. and South Ave.- scotthendler
Location
123 East Main Street, Rochester NY 14604
Hours
Whenever events are scheduled
Phone
585 232 7200
Website
http://www.rrcc.com/
The Joseph A. Floreano Rochester Riverside Convention Center is the city's primary meeting place. It is located downtown on the east side of the Genesee River on East Main Street. It is within walking distance of three major hotels and is reachable by the downtown Skyway system. The immediate area surrounding it is known as the Convention District.
It was built in 1980 on the site of the Commerce Building.
The Convention Center can host events from 10 people to 1000, and offers an extensive kitchen facility for catering. Throughout the year it is the home for regional conventions, trade shows, gala civic dinners, weddings, and smaller many meetings.
In August 2015, the city announced it was looking at $100 Million expansion. The project would add about 60,000 square feet to the 100,000-square-foot convention center. The expansion would be built off the south end of the building, at the corner of Broad Street and South Avenue. It would add 20,000 square feet of exhibit space, 15,000 square feet of meeting space, and a 20,000-square-foot ballroom. The center already has a 10,000-square-foot ballroom. This second room would be built on top of the center's exhibit space, bringing the building up to four floors.
Comments:
Note: You must be logged in to add comments
---
2015-07-09 13:44:28 Is it possible to change the header name as well? The Convention center was named the Joseph A. Floreano Rochester Riverside Convention Center after Mr. Floreano in 2014. He was instrumental to the building, design and managment of the Convention Center. —CalinLawrence
---
2015-08-10 16:06:46 That expansion plan is hideous! It looks like a stack of suburban office buildings! —EileenF
---
2015-08-11 13:38:31 RE: The expansion: Looks like something Donald Trump would build. —alex-c