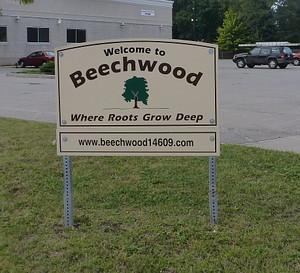 Sign on corner of Culver and East Main.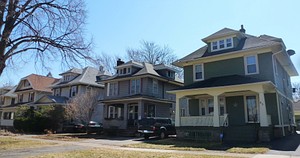 Beechwood is a residential neighborhood in Rochester. It is generally working-class to the west but becomes more middle-class as you get closer to Culver Road and Culver-Merchants/North Winton Village. Originally farmland, many of the homes in Beechwood were built in the 1920s and reflect the architectural trends of the period, especially the
American_Foursquare. The neighborhood was initially home to German immigrants and German-Americans, as can still be seen in the Swan Market, a local institution.
Today, Beechwood is one of the most diverse neighborhoods in Rochester and is one of the city's
Targeted Investment Areas. Its affordability, high percentage of homeowners, and proximity to other great neighborhoods have made it increasingly popular with young families. The Dazzle School of Visual & Performing Arts, the Museum of Kids Art, a community center, and a public library offer many opportunities and activities for children and have played a vital role in Beechwood's continuing development. One of their ongoing projects is Dazzleville, an expansion of the Dazzle School's community outreach and the creation of a mini "art walk" with decorative benches and other public beautification.1
The Beechwood Neighborhood Coalition is extremely active. According to one resident, thirty people attending a meeting is considered a low turnout. The offices for the NorthEast Area Development are also located here.
The south border with East Main Street overlaps with the EMMA neighborhood.
Establishments
Many of Beechwood's amenities are on East Main Street, Webster Avenue, and Culver Road, which overlaps with the Culver-Merchants neighborhood. The Public Market (technically located in Marketview Heights) is off East Main within easy walking/biking distance.
See also: EMMA and Culver-Merchants.
Food and Drink
Retail
Services
Worship
Other
Links
Comments:
Note: You must be logged in to add comments
---
2017-07-02 02:33:26 Vigilante Tattoo is also located here since 2013 —DawnKelleyArt
---
2017-07-02 02:40:53 https://vigilantetattoo.wordpress.com/ Vigilante Tattoo ~ appointment only, custom tattoo shop —DawnKelleyArt