Location

Public Market January 2008

280 North Union St, Rochester
Hours
Tuesday & Thursday: 6:00AM to 1:00PM
Saturday: 5:00AM to 3:00PM
Sundays: Special Event Schedule
See Schedule Info Below
Phone
585 428 6907
Website
City Public Market Page
Reviews
See Comments below
Yelp.com Discussions
WNY Locals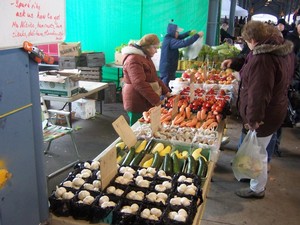 The Rochester Public Market is one of the cheapest places to shop in Rochester. It is a bit crowded, and you have to use your brain. Goods are very cheap, but there is a whole range of quality. Some vendors are selling backstock that has been sitting in a warehouse for two weeks, while others are selling vegetables that they picked the day before from their farm or backyard garden. Produce is generally very high quality and at very low prices. Many large bags/boxes of food can be bought for around $1 each. $10 could feed you for two weeks. You can regularly get fruits, vegetables, meats, fish, baked goods, cheeses, wines, spices and a variety of other food products at the market. Other vendors sell clothing, household goods, giftware, etc.
It should be noted that finding organic produce can be very difficult, although there is a good selection of organic meat and dairy products.
The Market District is located just northeast of downtown. Follow the signs. Be careful, the signs may be deceiving and send you in the wrong direction or unsuspectingly onto the Inner Loop. It is recommended to look up good directions before going. The neighborhood surrounding the Public Market is called Marketview Heights.
The market is open year-round, in all weather, so be prepared as much of the market is outdoors. Saturdays are the big day when everyone is there; Tuesdays are much lighter, and Thursdays are a happy medium. On Saturdays, parking is often a bit of an adventure, although new satellite lots on the West side of North Union Street have improved the situation in recent years. On Tuesdays and Thursdays, you'll probably be able to find a good spot inside the market grounds.
The public market has been in operation since 1827, making it one of the oldest continuously operating farmers' markets in the nation. It was originally located in what is now the downtown area, and extended over the Genesee River at the west end of the Main Street Bridge. It was then later relocated to the Center Market on the east side of the river between the Andrews Street Bridge and the Sister Cities Pedestrian Bridge. In 1905 it was once again relocated to what it is now its current location off of North Union Street in the Marketview Heights Neighborhood.
Shopping Suggestions
This is a rough guide for shopping at a public market for people who aren't used to public markets. Shopping at a public market is a lot different from a grocery store, since you have many people selling goods in proximity. Instead of blindly following a metal cart down fluorescent-lit aisles, you will end up fighting crowds, meeting people, and often getting awesome deals.

Don't Buy the First Thing: You need potatoes? Don't go to the first stand. Wander around. See who is selling how much at what price.


Timing Matters: What you get at what price depends on what time you shop. Show up at 7:00AM, and you will find a great selection of fresh stuff, and plenty of room to move, but you will have to pay the marked price. If you show up 1/2 hour before the place closes, you can often get cheap prices as people try to dump their stuff before going home. You will also be getting all of the goods people have passed over throughout the day.


Try different sellers: If you get good fresh produce at one place, you will probably get good produce from them. But there might be someone 3 stalls away selling fresh stuff for less. Shop around, check out what each vendor has for sale.
Be sure to check out Juan and Maria's Empanada Stop on Thursdays, Saturdays and for special events.
Awards
Voted "Best Farmers Market" in City Newspaper's 'Best of Rochester' Awards in 2015.1


Voted "Best Place to People Watch" in City Newspaper's 'Best Of' Awards in 2008, and "Best Public Market" in 2009.23
2016 Special Events "At the Market" Schedule
Community Garage Sales and Superfleas: Sundays, 8:00AM to 2:00PM:

April 24


May 1


June 12, 19, 26


July 3, 10, 17, 24, 31


August 7, 14, 21, 28


September 11, 25


October 2, 9, 16

Flower City Days: 8:00AM to 2:00PM

Sundays: May 8, May 15, May 22, May 27, May 29, May 30, June 5


Memorial Day Weekend: May 27, 29, 30

Flavors of Rochester at the Market 10:00AM to 12:00PM

Every Saturday, May to September, outside the Market Office (weather permitting)

Bands on the Bricks: Fridays, 6:00PM to 10:00PM

Performers TBA


July 8, July 15, July 22, July 27, July 29


August 5

Food Truck Rodeo at the Market: Wednesdays, 5:00PM to 9:00PM

April 27, May 25, June 29, July 13, July 27, August 17, August 31, September 28, October 26

Artists Row organized by
Friends of the Public Market:

Sunday, September 18, 10:00AM to 4:00PM

Foodlink
Festival of Food:

Monday, September 19, 6:00PM to 9:00PM

Rochester Cocktail Revival Gala

Friday, May 6, 4:30PM to 9:00PM

In partnership with Elim Sanctuary Choir


Sunday, July 24, 4:00PM to 7:00PM

Friday, August 19, 6:00PM to 9:00PM

Holidays at the Market: Sundays, 9:00AM to 3:00PM

Zagster has a 2 stations there.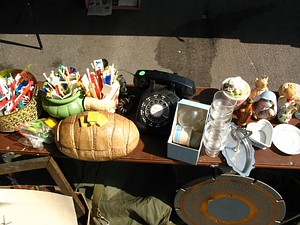 A variety of merchandise for sale at the Public Market. Photo by
rchappo2002
Notes and References
Comments

You may make your Public Market comments and additions on one of the following pages: