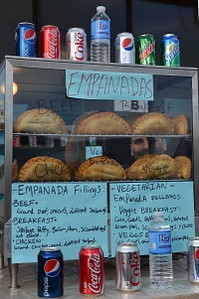 Tower of Delicious-ness, 8-2011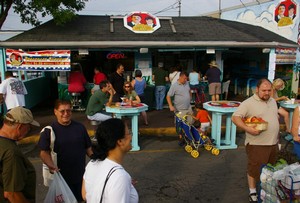 Juan and Maria's 8-2007
Locations
280 Union Street North, Rochester NY
in the Public Market
1 Miracle Mile Drive, Henrietta, NY 14623 at Marketplace Mall
Hours (as of April 2023)
Public Market:
Tuesday & Thursday: 9:00AM to 2:00PM
Saturday: 6:00AM to 3:00PM
Sunday: 8:00 AM to 2:00
Marketplace Mall:
Info Needed
Phone
PM:(585) 325-6650
Email
<InvestInEmpanadastop AT yahoo DOT com>
Website
http://www.empanadastop.com
Facebook
Juan and Maria's Empanada Stop is a food stand at the Public Market that serves breakfast and lunch, both Spanish and American cuisines. They sell 10 different kinds of empanadas along with rice, beans, and pork!
They also have six types of homemade hot sauces, including green and red, available for purchase. On April 7, 2023 opened at Marketplace Mall. The son and daughter-in-law now run the business.
You might be wondering,
What is an Empanada?
Comments:
Note: You must be logged in to add comments
---
2006-11-10 13:50:48 Super-friendly staff and very delicious breakfast empanadas - and the sauces are truly awesome - we bring some home every time. —ChrisYoung
---
2006-11-10 15:19:10 Perfect for breakfast or brunch when shopping at the Public Market, and damn tasty too. —DanielMiner
---
2007-03-15 01:01:35 They are extremely friendly and make amazing food. I usually get the combo (rice, beans, pork and empanada), and it fills me right up. I agree that the hot sauces are very good. One of my favorite places to eat in Rochester. —StevenDibelius
---
2007-03-31 22:30:26 Good food, doesn't try to over-Americanize the dishes, but because of the tiny shop, they have a tiny menu to match. —TravisOwens
---
2007-04-14 19:50:36 these are really nice people and the food is really great. especially when you have been shopping all day. btw the public market is worth going to not just for their food stands. —JadeRaven
---
2007-04-16 00:44:40 Do you work for them? —DesaRaeStanton
---
2007-07-02 04:40:32 I used to get empanadas from these guys once a week at RIT, and loved them. I didn't know then where their shop was, but now that I've found them, I'm definitely stopping in. —AldenKendall
---
2007-09-04 14:52:43 I tried an empanada with the Greengo sauce for the first time on Saturday. The Greengo sauce is out of this world. I've never tasted anything quite like it. So I bought some. But I'm a Rochester ex-pat who was back for a visit. I can't get to the Public Market more than a couple times a year max.
Please help. Does anyone know what's in the Greengo sauce they sell? I want to try to recreate it in my own kitchen. And what's in it that it won't freeze completely? It remains mushy no matter how long you freeze it. And yes, my freezer was working fine.
Thanks. —EllenGugel

---
2007-12-05 21:39:52 I just don't get it. Their empanadas are terrible! Maybe, maybe, I'll try them again, but once seemed enough. —QuincyCat
---
2007-12-12 08:33:18 I love this place. Like everyone has said, great empanadas and sauces. —AlAbonado
---
2008-02-20 09:34:58 I've never had empanadas anywhere but here, and I don't plan to. The staff is kind and energetic, and Juan makes a point of coming out and mingling with the customers as often as possible. They try to beat their own record for Saturday sales on a weekly basis, and they often include the customers in the counting process, as Juan will hand someone the day's receipts and ask him to read them off as he punches them into his calculator.
The breakfast empanada is yummy, the sauces are fantastic (try mixing the tomato sauce and the green sauce together!), and the atmosphere is cheerful and invigorating. Check them out, but bring a mint- empanada breath is not endearing! —AlisonSchaal

---
2008-05-23 22:04:50 I hear they are opening a second location in East Rochester. Did anyone else hear this? —ScottHendler
---
2008-05-26 14:36:15 Scott, there is a banner on the front of the stand in the public market confirming this. —EastSideStephen
---
2008-08-07 21:00:57 I'd heard good things about Juan and Maria's over the past few years, and this summer, I finally tried them for the first time. Woah. An empanada ($3.01+tax) and a cup of hot coffee ($1.16+tax) is the most awesome way to start a Thursday morning at the market. The staff is great, and the food is delicious and clearly made with love. —Users/RyanTucker
---
2008-08-14 14:21:31 Lunch at the E. Rochester location was nice. Had an empanada with rice & beans. Tasty stuff, but a bit greasy. My companion ordered rice and beans, and it came with pork on top which she didn't order. When she asked for no pork, the woman behind the counter simply picked it off and handed her the same plate. Definitely not a good food-service practice, but we didn't care enough to say anything.
Food was a good enough value for a return visit —EastSideStephen

---
2008-09-22 10:08:13 Went Sunday and the service was amazingly slow. Slow to order and slow to serve. They had one HS kid serving who was clueless with 4 adults hanging around in the background doing nothing with aprons on. He honestly had an 8 year old behind the counter telling him what he needed to do next. I love empanadas, but this place over-rated and over hyped if you ask me. I may still grab one from here if I am at the market anyway but wouldn't go out of my way. —BadFish
---
2009-10-28 19:29:21 This is a staple of our weekly visit to the Market (on Saturday). The food is good. The condiments are great. The vibe is international. It's all good! —BatGuano
---
2009-11-16 08:29:59 Went past their East Rochester location on Saturday, 14 November. There was no sign of the restaurant. —DawnTucker
---
2010-07-10 09:54:19 I visited the East Rochester location before it closed, it was near my office on a lunch hour. Delicious food and cheap prices! I will definitely seek them out at the Public Market. —sarah
---
2011-10-15 17:32:40 Stopped for breakfast this morning while at the market- my husband had the breakfast empanada and I had the fruit/nut empanada. Delicious. To top it off we were the 50th customers of the day (or some variable of 50) and we won a free meal up to $5- so for two of us it was less than $4. Where else can you get that deal? Phenomenal. Next time we will go later and order lunch-type empanadas. —ShawnaLusk
---
2011-11-21 16:35:38 This is a review I originally posted on Yelp:
After reading all the glowing reviews of this take-out stand at the Public Market (note to Yelp: this place is not a 'restaurant' in that it has no seats, it's just a take-out stand..), I decided to give it a try. Man, what AWFUL food they serve! Greasy, bland, and unless you add one of the hot sauces in bottles, not even spicy. Taco Bell does better Mexican food.
Yeah, I guess this place is 'authentic' in that it's just as bad as most of the food stands you'll find in most Mexican border cities, but then, those are awful as well. And, while I'm at it, don't even consider trying the coffee! It tasted like it was:
a) burnt
b) over-brewed, and
c) left over from yesterday.
As if to add insult to injury, all they had was powdered generic 'creamer' to put into it (note-Mexican tradition:warmed milk goes into coffee, not powdered stuff..).
So, if you are truly expecting a Mexican street-food experience, here it is-bad food served cheaply in a crowded place to people who don't know any better. If, on the other hand, you're looking for GOOD Mexican food, stay far, far away from this place.

---
2012-04-05 20:58:45 Definitely was excited to try their food after hearing great things but had the WORST experience. Go anywhere else in Rochester for hispanic food, i don't understand what people are talking about. Maria was cooking our food and I was shocked because it seemed like her first day in the kitchen. She seemed so confused about the orders coming in, she didn't know how to read the tickets and therefore a HUGE line formed and I literally waited 20 mins for rice and beans with pork and 1 empanada. For the $5 or $6 i spent on the rice and beans i got the smallest little to-go container with some of the worst pork i've ever had. If you spend that $5 anywhere else for rice and beans you'll get enough for 2 or 3 lunches. Horrible —catwhisperer