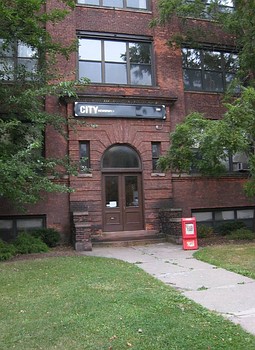 City Newspaper offices on Goodman Street near Village Gate, 9-2008
City, also known as City Newspaper to avoid ambiguity, is Rochester's free, weekly, independent, alternative newspaper. Their headquarters used to be in the Anderson Arts Building in the Neighborhood of the Arts but now moved in with their parent owner WXXI.
Founded by William and Mary Anna Towler in 1970, City often takes a conventional liberal position on issues. They feature commentary on local politics, coverage of issues that plague Rochester, and editorials, in addition to sections and listings of Art, Music, Theatre and Movies. The last section is a delightfully large classifieds marketplace in which various wares (houses, appliances, women, men) are available to the reader.
Some History: Early on, the paper was in 2 issues, City East and City West, that were eventually combined into one larger paper.
In 2006 City introduced a new website, which some think is better-designed and easier-to-use, that uses a
PHP-based content management system and features
syndication feeds. Readers need not create a login before they comment. Articles, comments, updates, news, and reader comments appear there before they appear in print each Wednesday.
In May 2019, upon the retirement of the Towlers, City became part of WXXI's for-profit arm.
At the end of March 2020 City ceased print publication, becoming online-only at least temporarily. This was triggered by loss of distribution outlets and advertising due to the
coronavirus pandemic, although long-term trends challenging the alternative press (and print publications in general) played a role.
Best of Rochester
The Best of Rochester is an annual poll City holds each year, in which the public casts votes for their favorite thing in numerous categories, ranging from retail to restaurants, various kinds of services, theatrical performances, music, art, festivals, neighborhoods, blogs, local personalities, and more. The RocWiki was voted Best Local Website in 2007 and again in 2015.
Comments:
Note: You must be logged in to add comments
---
2005-11-16 21:16:05 I usually hear people refer to it as "City" instead of "The City." Never heard anyone call it "City Newspaper," even though that's its actual name! —MariahBetz
---
2005-11-17 06:39:53 I think I'm going to start referring to it by its full name, but only when I am upset at it: "City Rochester's Alternative Newsweekly!" Go to your room! —HeatherYager
---
2007-04-21 13:35:26 Despite continuing a trend of clutter and some questionable design choices, the new City site is orders of magnitude better than the old one. Just don't expect a lot from the archives of the old site—images are gone, formatting tags are just hanging out, and, perhaps most disturbing, bylines are gone. Not sure why converting from one digital format to another seems to have been so difficult. —EternalStudent
---
2007-11-16 17:08:07 Many thanks to the readers who voted this the best local web site. Unfortunately, the print edition lists us as rockwiki.org, which is currently held by a domain squatter. —DaveMahon
---
2008-10-28 18:02:00 Hey everyone, I am one-half (the design half) of the company City hired to redesign the website (
http://www.weareseencreative.com). We started by launching what would be considered phase 1 back in 2006. That was the first step in the right direction, but it was far from perfect. We launched phase 2 earlier this month. It's the next step, and much closer to overall vision. I'd be interested in hearing any thoughts. It's a pretty heavy overhaul — from features to design.
I also want to address two things:
1) The content management system was not Ruby on Rails based as mentioned above. It is a custom, PHP based system we developed from scratch specifically for City. We did recently decided to package the software though, under the name Flint (
http://www.flintpublisher.com).
2) Regarding EternalStudent's comments. The content from the archives before the phase 1 launch was imported from the previously used CMS. Without ragging on that old system by name, I can tell you it was a mess. Content was not arranged in the database in anything close to a way that made sense. It used conventions from like 1995 or something. Totally backwards. We did as much as we could to port over the content, but there were some issues (as you've pointed out). We continued to work on these, and may have solved a few more of them for the phase 2 launch. But when you say "Not sure why converting from one digital format to another seems to have been so difficult," you saying so without seeing the previous system. I big assumption. Also as far as questionable design choices, please take a look at the phase 2 design and see if any of those issues have been addressed. I totally agree that the design of phase 1 was a little off, hopefully this version is an improvement (I think it is).
Sorry for the essay, but any feedback is welcome. —NickAdams

---
2012-07-01 20:40:28 Anyone know what happened to their website? It used to be very user friendly and organized, but about a month ago they opted for a wordpress domain and it's horrible now. I tried to ask them but they deleted my comment... —sub619
---
2012-07-01 21:53:52 There was a notice in the paper several weeks ago, that indicated they had some type of major crash and loss of data from their website. What you are seeing now might still be something temporary, until they rebuild the site properly. Seems strange that there was no backup.
---
2012-07-01 23:00:07 The notice about the website failure is still there - bottom of the front page - but has not been updated since the end of May. —MarkJackson
---
2012-08-29 20:53:59 City has just rolled out a new website (in place of the temporary one that replaced the one that crashed); most archives are still being migrated. —MarkJackson