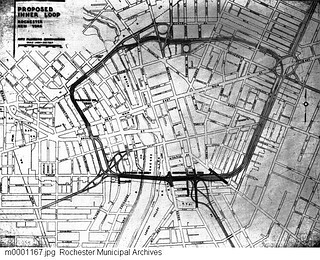 Rochester Municipal Archives - Click to Enlarge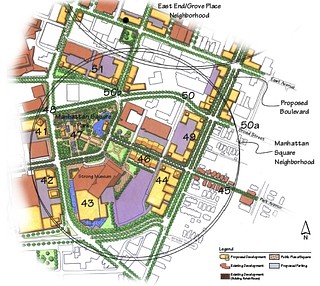 Click to Enlarge The Inner Loop refers to a circumferential expressway constructed around the center of Rochester, NY. The Inner Loop intersects with I-490, Broad Street, Clinton Avenue, Joseph Avenue, Main Street, Plymouth Avenue, Scio Street, South Avenue, State Street, St. Paul Street, and University Avenue.
History
In 1965 The New York State Department of Public Works announced plans to build an expressway around Downtown Rochester. Part of this roadway was to go through RIT's downtown campus. This prompted RIT to move the college to a suburban location in 19681 — now their current location in Henrietta. The Inner Loop had many sections that were perpetually devoid of any traffic. Many have called this roadway a moat squeezing off downtown — certainly the opposite of the intended effect.
The City of Rochester did a downtown plan in 2003 that calls for ripping out the east side of the Inner Loop and building on the land, turning Union St into "Rochester's premier urban street". Park Avenue would be extended across Alexander Street and Union Street to connect with Manhattan Square Park.
Current Status
The final plan is to reconstruct a 2/3 mile stretch of the eastern segment of the Inner Loop between Monroe Avenue and Charlotte Street into a high quality complete city street. The new at-grade street is planned to enhance the area's livability, allowing people to easily walk and bicycle between neighborhoods and downtown. Starting in 2015 sections of the inner loop were shutdown and are currently being filled in.
Notes and References

There is also a Blog under the name
TheInnerLoop on BlogSpot.com but it has nothing to do with the roadway and was last active in 2007.
Comments:
Note: You must be logged in to add comments
---
2006-06-28 07:50:24 Why is everyone so anti-Inner Loop? I like the Inner Loop—it is a very interesting structure in the center of our city with great potential. Is there room for improvement? Yes. But, I wouldn't fill it in or get rid of it. How about commissioning murals for the numerous retaining walls and fixing up the medians by adding more trees and landscaping. The city could also redesign the bridges over the Inner Loop as they had done with the bridges over 490 on the west side of the city. Furthermore, I wouldn't call it abandoned; During rush hour, it suffers from major congestion issues.—CarlGo
---
2007-02-03 14:46:36 Ah, the Inner Loop. The Holy Grail of the car culture and the largest scar on Rochester's urban landscape. Built not for the benefit of those who actually live in the city, but for those who merely wish to travel through it as quickly as possible. That is why so many city dwellers are so anti-loop. The satelite view shows the grim truth of how much of a noose around the city ti is. So much destruction not only for the path of the loop, but for all the on ramps as well. On the east side, between Main St. and Monroe Ave, if you combine the Loop, and the two streets running next to it (Pitkin and Union) there are EIGHT TO NINE LANES OF TRAFFIC for a trickle of vehicles, even at rush minute (rochester ain't big enough for an hour) - 490, 390, and 590 at their widest aren't even that big. —DinoKolios
---
2007-02-19 12:55:59 I can't think of another city in the US that has a highway running this tightly around it. Sure cities have beltways, but they are much wider than the 1-mile radius that is the Inner Loop. So what now? While I personally don't like it myself, I do think that it can be helpful on some levels. Seeing as how the highway is in place, and much of the eastern (controversial) portion lies beneath the city level, do you think it would be feasible/practical to cover it, and have an underground highway, a-la Boston's Big Dig? Just looking at the current layout, (and I say this having no civil engineering training) I would have the underground portion beginning just after the St. Paul exit, continue around the northern and eastern portions, and end at the 490 interchange. This would leave the most important exits (Clinton, Plymouth/Broad, and St. Paul) untouched, and would allow Rochester to keep it's transportation infrastructure while getting rid of the inner loop's squeeze on downtown. —BiffWebster
---
2008-09-13 12:40:21 Just a small clarification; the downtown RIT campus was centered on Broad, Washington and Spring streets on the west side of downtown. Several key buildings were demolished by inner loop construction, but none of them were ever near Union and Chestnut streets. A couple RIT buildings are remaining, like the Bevier building on Spring street and what is now the County's CityPlace building on Main. —SteveCaruso