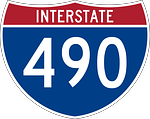 Interstate 490 runs in an arc from Rochester's eastern suburbs, passes through downtown, and returns to the Thruway via the western suburbs. It is generally the quickest way to get East-West in the metro area. It has major connections to Interstate 390 and Interstate 590.
In certain stretches, I-490 is constructed in the right-of-way of the old Erie Canal (you can see the stone remains of an old lock next the westbound lanes near Culver Road). The stretch from Exit 27 (Bushnell's Basin) to Exit 9 (Interstate 390) is known as the Erie Canal Expressway.
A major reconstruction project in the early 2000's improved the road east of Genesee River and installed the Frederick Douglass/Susan B. Anthony Bridge to replace the former Troup-Howell Bridge over the Genesee River. In 2008 and 2009 another reconstruction project improved the roadway west of the Genesse River to the canal.
Intersections include (East to West):

Interesting Links
See Talk Page for discussions about the content, layout and integration of this page into RocWiki.
Comments:
Note: You must be logged in to add comments