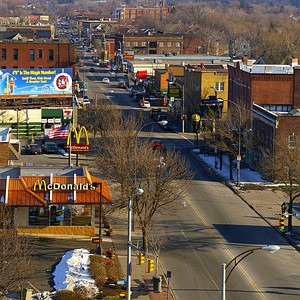 Aerial view of Monroe Village. Photo by
_yoshi_
Location
Extends from downtown Rochester into the suburb of Pittsford
Boundaries
Northwest - Chestnut Street downtown
Southeast - Main Street in Pittsford
Length
Approx. 6.5 miles
Monroe Avenue is a long vibrant commercial street. It runs southeast from downtown at Chestnut Street, continues through suburban Brighton, strip malls and plazas, and then enters Pittsford. In Rochester proper, it is parallel to Park Avenue. The entire length is served by the RTS Route 7 bus line.
Monroe Avenue is designated as NY State Route 31 and together with East Avenue/State Route 96, forms one of the two historic roadways between Pittsford and the original settlement at Rochesterville, now downtown Rochester. Like the county it traverses, the Avenue was named for
U.S. President James Monroe.
Some view Monroe Ave as the spirit and soul of Rochester. As fares Monroe Ave, so fares Rochester!
History
Monroe Avenue, also known as NYS Route 31, is one of Rochester's principal commercial corridors and the main artery linking downtown Rochester with the suburban village of Pittsford to the east. Unlike East Avenue, which developed as a residential avenue for Rochester's wealthy, Monroe Avenue had mainly a commercial and mixed-use character throughout its history. The roughly one-mile section of Monroe Avenue between downtown Rochester and the Erie Canal crossing developed over the course of the nineteenth century with two- to four-story masonry commercial and institutional buildings along the avenue and smaller scale residential development along the nearby side streets.1
Monroe Avenue's development as a commercial corridor mirrors the establishment and expansion of public transportation, first with horse-drawn streetcars as far as Alexander Street, then extended to Goodman. With electrification of the streetcars in the 1890s, the line was extended to the Erie Canal (present I-490 bridge) and finally to Highland Avenue. In the early 1940s, the streetcars were replaced with the #7 Bus, although the Rochester Subway continued to stop at the Monroe Avenue Station until its demise in 1956.
Sections
Monroe Village (City)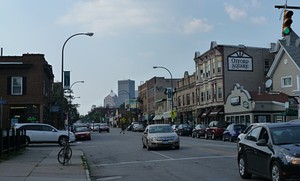 (2012)
When mentioning "Monroe Ave," most people are actually referring to the commercial strip between Interstate 490 and City Center officially called Monroe Village (see picture above). One of the most pedestrian-friendly and hip sections in Rochester, here Monroe Ave is packed with bars, restaurants, and shops. Here you might even mistake Rochester for a big city. Bike lanes were added in 2013
As with all big cities, parts of Monroe Village have some urban grit. One of the neighborhood's most recognizable landmarks is the historic 1928 Monroe Theatre. Until the summer of 2008, this housed the porn emporium Show World and was covered in lime green, orange, and black paint. In September and October 2008 the rear portion of the old theater was demolished and the facade was cleaned and repaired in preparation for conversion to retail space.
Important intersections are Alexander Street, Meigs Street, South Goodman, and Oxford Street.
Located here you will find:
The residential neighborhoods bordered by Monroe Avenue on the southwest are Wadsworth Square and Pearl-Meigs-Monroe. Northeast from Alexander to I-490 is the Park Avenue area.
Upper Monroe (City)
Continuing towards Brighton, one crosses Interstate 490 and enters the Upper Monroe neighborhood. Upper Monroe is also bounded by Pinnacle Hill, Field Street, and Cobbs Hill Park. This area tends to be more affluent, more residential, and closer in character to Park Avenue. Culver Road is an important intersection, with Monroe Avenue forming its southern terminus. Highland Avenue forms the border with Brighton.
Brighton
The Brighton section of Monroe Avenue extends from Highland Avenue to Clover Street. It is often considered to be Brighton's Main Street, centered on the Twelve Corners area. As suburbs grew during the post-war era, Brighton's population exploded from about 17,800 in 1950 to nearly 30,000 by the decade's end. This prompted the construction of the region's first strip malls along the Brighton portion of Monroe Avenue, many of which are still in use 2. As Monroe's desirability as a commercial corridor grew, many residential homes were also converted to retail, restaurants, and professional offices. Sidewalks provide walkability for the residential side streets. The area is known for its very high Jewish population, the largest in the state outside New York City.
Intersections are Elmwood Avenue, South Winton Road, Westfall Road, and I-590. The first three also lead back into the city. Clover Street forms the border between Brighton and Pittsford.
Pittsford
The Pittsford section of Monroe Avenue begins east of Clover Street. Here, the contrast between city and suburbs could not be more stark. Monroe Avenue's opposite end, Monroe Village, is a diverse, pedestrian-oriented urban neighborhood lined with many amenities and small businesses with apartments on the upper floors. Monroe Avenue in Pittsford, on the other hand, is wealthy and car-oriented. Although it has sidewalks, crossing the street on foot is a terrifying experience. Its exurban character is defined by high-end shopping plazas, mostly notably Pittsford Plaza, that contain big-box chain stores such as Michaels, Trader Joe's, and TJ Maxx.
The Pittsford Trail System (Railroad Loop) provides a safe alternative for cyclists.
Monroe Avenue finally terminates in Pittsford Village at the intersection with Main Street, where it turns into State Street and then Palmyra Road after it crosses the Erie Canal. If you keep going, it becomes West Main Street in Macedon.
Other Notes
The Show on Monroe festival is held annually to celebrate the diversity and vibrancy of Monroe Avenue in the city. Both Monroe Village and Upper Monroe participate. There are sales and promotions at the various independent businesses, as well as a variety of activities such as a scavenger hunt and bike rodeo.
Suburban Monroe Avenue is not a good street for cyclists. A recommended alternative is East Avenue, which runs roughly parallel to Monroe and is connected to it via numerous residential streets. For a Pittsford destination, turn right down Clover Street. This will take you directly to Monroe, where you will find the Pittsford Trail System (Railroad Loop) trail that runs along Monroe all the way to the Erie Canal.
Most establishments on Monroe Avenue in Brighton and even Pittsford may have a Rochester address due to Monroe County's strange zip codes.
Links
Comments:
Note: You must be logged in to add comments
---
2007-07-17 10:10:28 If "As fares Monroe Ave, so fares Rochester" then Rochester must be full of hookers and drug dealers after dark. —BadFish
---
2011-09-06 08:18:38 You're talking about the Monroe Village section. Monroe Ave is huge and extends all the way into the wealthy suburb of Pittsford. —EileenF