Offical Patch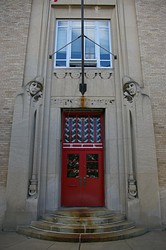 Detail of RFD buildings on Andrews Street, 8-2008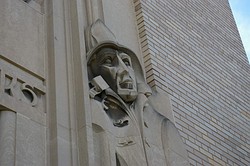 Detail of RFD buildings on Andrews Street, 8-2008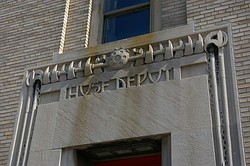 Detail of RFD buildings on Andrews Street, 8-2008
The Rochester Fire Department is a professional fire department tasked with ensuring the safety of those living, working, or visiting the City of Rochester. As of 2008, the Fire Department fields 10 Engine Companies, 4 Quint/Midi Companies, 1 Heavy Rescue, and 4 newly reorganized Truck Companies to complete this task. These companies are housed in 15 firehouses strategically placed throughout Rochester. The Fire Department employs over 500 firefighters and officers who are split into 4 shifts.
The Rochester Fire Department also has Ice, Water, Confined Space, Rope, HAZMAT, and Collapse teams, to ensure the ability to respond to any disaster that could befall the City of Rochester whether it be man made or natural in nature. In addition to these specialty teams, the Fire Department also includes the Fire Safety Division, Community Outreach Group, the Supply Depot, and a Training Academy. The Fire Department also provides equipment and a paid driver to the Rochester Protectives.
In May 2008, the Department began a restructuring to move away from the Engine and Quint/Midi system to a more traditional Engine and Truck model. Over the four year transition, the Fire Chief's Office and City Hall will monitor data to ensure this change is in the best interest of the citizen's and firefighter's safety.
The downtown firehouse on Andrews St. and the former Maintenance and Communications buildings, located across the street, are beautiful examples of Art Deco design, built in 1936. The Rochester Fire Department made their own fire engines in the Maintenance building during the 40's and 50's.
Starting 7/1/08 Quint/Midi 8 and 2 were disbanded. 2 new Truck companies were organized in their place. Truck 10 in Q/M 8's place and Truck 2 in Q/M 2's stead. The reorganization continued on 10/1/2009 when Quint/Midi 3, 4, and 9 were disbanded. Organized in their place was Engine 1 on Monroe Ave, Truck 4 on University Ave, and Engine 8/Truck 3 on South Ave. On April 5, 2010, Quint/Midi 1 in Charlotte and Quint/Midi 5 on Gardiner Ave. closed. Truck 5 was reorganized in their old quarters on Gardiner Ave, and Engine 19 was reorganized to replace Q/M 1. The final year of the reorganization will be in 2011 when Quint/Midi 6 and 7 are disbanded. The final phase will see two new Engine companies organized in the former quarters of Q/M 6 and 7. In addition, a new Truck company will be organized and will be quartered with Engine 16 on Hudson Ave. This will eliminate all Quint/Midi companies and leave the RFD with 13 Engine companies, 6 Truck companies, and 1 Heavy Rescue.
Current Fire House Locations

Engine 1: 315 Monroe Ave.


Engine 2: 1207 North Clinton Ave.


Engine 3: 1051 Emerson St.


Engine 5: 450 Lyell Ave


Engine 7: 873 Genesee St.


Engine 8/Truck 3: 1261 South Ave.


Engine 9: 740 North Goodman Ave.


Engine 10/Truck: 2 1477 Dewey Ave.


Engine 12: 160 Wisconsin St.


Engine 13/Truck 10: 272 Allen St.


Engine 16/ Truck 6: 704 Hudson Ave.


Engine 17/Rescue 11/HazMat 1&2: 185 North Chestnut St.


Engine 19: 4090 Lake Ave.


Truck 4: 977 University Ave.


Truck 5: 57 Gardiner Ave.
Comments:
Note: You must be logged in to add comments
---
2014-06-11 05:57:21 I am researching a story. I delivered the morning newspaper to the Gardiner Ave. fire house about 1965-1970. I recall the hook and ladder truck was in a collision at Glide and Maple. A family was killed and the tractor was totaled. The station had a matched pumper and ladder trucks, modern for the time with buff over red paint. After the accident an older Pirsch, solid red tractor was mated to the red/buff ladder section. This hybrid combination was always odd to see and reminded me of the accident.
On Route 104 just east of the Monroe Orleans County Line Rd. is a dilapidated junk yard. Visible along the north side is a 1950's vintage solid red Pirsch hook and ladder vehicle. The door has a patch of less faded paint where the RFD badge had been mounted.
In the trees and weeds just west and behind it, not easily visible from the road is another hook and ladder truck. The tractor is a red 1950's Pirsch. The ladder section does not have the Pirsch name on it and appears to be buff over red paint scheme.I believe this is the Gardiner Ave. hook and ladder. I recently took some photos of both.
What I am asking for; are these facts? I have been unable to verify them. I was 10 -14 years old and may not remember the story correctly.
One additional question is, what became of the damaged tractor?
The junk yard and the solid red hook and ladder are visible on Google maps at 9926 Ridge Road. If you place the map man by the driveway, you can see the red/buff truck to the right of a small white building. Colors are hard to see because of the rust.
I am also contacting the Rochester Public Library for information.
Thank you in advance for any information you may be able to provide.
Thank you for your service.
Sincerely,
Dave Connor —daveconnor

---
2015-03-21 19:32:31 Hi Dave Connor, my name is Mike McDonald. I also remember that acciden . It was in the fall of 1968, if I recall correctly. My brother Chuck was just getting on the police department around that time at was at that scene. I remember they put the bodies of the victims at the old minute man gas station that was there. Believe it or not, I was three years of age and I remember it very well. I was with my mother inside McGowens bar because it was raining and we watched it from inside ther . I grew up on Mcardle street —MichaelMcDonald
---
2015-03-21 19:52:15 Dave Connor, I just talked to my brother and I misspoke, the accident took place in the fall of 1970, I was 5.