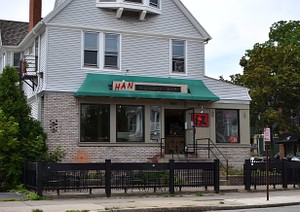 Old Han Noodles location, 2-2011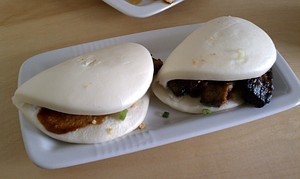 Pork Belly Buns, 3-2011
Location
600 Monroe Avenue, Rochester, NY 14623
Hours (as of April 2023)
Sunday - Tuesday & Thursday: 11:30AM to 9:30PM
Friday & Saturday : 11:30AM to 10:30PM
Phone
585 242 7333
Wheelchair Accessible
Yes
Alcohol
No
Websites
http://www.HanNoodleBar.com
Facebook
Han Noodle Bar is a Chinese restaurant and noodle bar in Monroe Village. There is outdoor seating.
Opened on January 21, 2011. On November 14, 2012, the owners opened a second restaurant named Bistro Han in Perinton, which closed in January 2018. In 2023 they moved to a larger location down the street to a totally rehabed Gitsis Texas Hots building.
Comments:
Note: You must be logged in to add comments
---
2011-01-25 12:46:20 Their website is a little screwed up, but the menu is there. It looks interesting. —RxScabin
---
2011-01-28 20:09:41 Popped in tonight—owners are nice, the interior is simple and sleek, and the pork belly tender. The menu is small, but diverse—the quality of the pork belly has snagged my interest to try more. Very reasonably priced. They have an interesting selection of desserts. Also, watching the street from that vantage point is very charming. —CTeng
---
2011-02-06 16:48:36 We had lunch here the other day. The interior does look great. Service was prompt and friendly, the owner was there can came over to say hello and talk for a few minutes. Lunch was good, and very reasonably priced. Hope they do well. Someone told us that this is the same folks that owned KC Tea and Noodle, anyone know if that's true? —DottieHoffmann
---
2011-02-06 17:45:59 First of all, I want to extend appreciations from all of us to all of you that had faith in us and already gave us a try. Han noodle bar is a very authentic Chinese noodle house. We had a vision of doing something simple, real, unique and affordable. Being a new venture for us, it will take us some time and lots of hard work to meet your expectation and our own standard. We are very determined though. And hope with your input, we can get there soon. Check out our web site hannoodlebar.com, and follow us on facebook "han noodle bar". You do seasonal menu and will introduce specials on an on going basis. Looking forward to serving you.
J.T. Sean and Tony
BTW, we're not associated with any restaurants in the area. This is our first venture into the restaurant business. —TonyK

---
2011-02-14 20:06:22 My girlfriend and I ate there tonight. Our appetizers, egg drop soup and egg rolls, were delicious and cheaper than other places. We ordered the beef brisket noodle soup and the beef tendon noodle soup. They tasted fabulous and made us quite full. Their prices are great so we will be coming here again. The interior reminded me of IKEA, very clean and neutral colors. —Bammerburn
---
2011-02-14 20:22:47 We visited this past Saturday evening for an informal Chinese New Year dinner. Despite some early communications issues between the front-of-house and kitchen that led to a long delay in our appetizer arriving at the table, we had a great meal. The pan-fried pork dumplings were the best we have had at any asian restaurant - anywhere (and we have had lots). I love Chinese sausage so the simple stirfried dish of house-cured pork belly, sausage and celrey was a real treat. In my wife's broth noodle dish the wonderful roast pork stole the show for her, but the broth seemed just a little weak. The staff was warm and welcoming and the simple decor leaves the focus on the food. And without any prompting they comped us for our app because of the delayed service. We will be back soon to try more of their street food dishes, and maybe even their take on some traditional Chinese fare. —JGerek
---
2011-02-15 14:05:28 Is HNB vegetarian friendly. It is nice to get authentic vegetarian food. —RxScabin
---
2011-02-15 18:17:57 As soon as HNB opened I took a visit. I wasn't too sure what a lot of the items on the menu were, so I asked for verification. The owner was very pleasant and super friendly to fit my needs as to what kinds of things I like and do not like. Needless to say, living on oxford street (minutes walk)I have found my new place. I have been there I think ten times so far.
I was getting addicted to one of the shrimp and egg meals, but the owners smiled and me and said you gotta try something else you'll love it! And I did! So, now I and trying everything when I can get there.
I like the style of the interior. Very clean, and subdue, which gives it a cozy feel. I have not actually sat down and ate as every time I came in I needed to be home. I know a good friend of mine is going there a lot as well and we joked the other day when he called me and asked what I was doing and I told him I just got Han Noodle for takeout. He says "I was just there..love the place!"
So it's 5 out of 5 for me!
Enjoy!
Jeff- —jflack99

---
2011-02-18 09:52:42 I tried Han out last night. In a word: fantastic. If you enjoy or are interested in authentic Chinese food, go there NOW. The food is delicious and interesting, service is very friendly and the atmosphere is clean and comfortable. Prices are very reasonable too. Han will be at the top of my list for sure. It's a gem. —jonsi
---
2011-02-18 19:45:01 After reading all of the positive reviews on this site, my fiance and I tried this place out tonight. I hate to be the first negative reviewer but it was an extremely disappointing experience- the food was below average and the service was incredibly slow. It seemed like guests around us who ordered the noodle soups were really enjoying them, but the braised tofu and lo mein that we ordered were simply awful and the scallion pancake appetizers were overly greasy and undercooked. Although the prices are reasonable at Han Noodle, there are plenty of other restaurants nearby that offer similar prices for much better meals. Proceed with caution!
@RxScabin- There were only a few veg items on the menu and none of them were really that appetizing. The braised tofu was awful- it basically tasted like they microwaved soft tofu and slopped sauce on it. There were very few vegetables served with the dish and it was probably a whole brick of tofu. —TrishHeckmann

---
2011-02-21 16:19:25 Really sorry to hear about the experience of the person above me, but Han is my new favorite restaurant in Rochester. I went once last week and now cannot keep going back. Everything I've had has been amazing. But I am mostly excited to find a place in Rochester with decent pork buns. I didn't realize how much I had missed them. So far my favorite noodle dish is the pork belly noodle with yellow noodle. The crispy pan fried noodle is also fantastic. —KimBee

---
2011-02-22 16:21:13 I also did not have a great experience here. I was excited because of all of the positive reviews but was disappointed. I got the dan dan mien noodles and they were pretty bland and greasy. My husband got the wonton noodle soup and his was worse than mine. However, I will say that the steamed pork belly bun was delicious. —micha
---
2011-03-16 13:13:52 Fresh, simple, flavorful! I can't sing enough praises! Just had lunch here for the first time today. I read in this thread the owner's aim was reasonably priced authentic Chinese food. I had the Shitake & Bamboo steamed buns, cucumber salad (to die for!!), and fresh spring rolls. The food was super good. Definitely will be back and promote this place to everyone I know :) —AlisonBoncha
---
2011-03-17 13:15:16 AMAZING - authentic beef noodle soup for $6! I'll eat this every day! —DerekSung
---
2011-03-20 02:32:23 I have eaten here once and gotten takeout twice. The first 2 times, the experience was great. When we ate there, the service was prompt and polite The food was delivered to our table in a timely manner. Everything tasted great. On the 2nd time we got takeout, there was no ginger (at all) in my ginger-scallion chicken and it tasted burnt. So, there may be a little inconsistency in their quality (it may be related to timing as the unsatisfying food was during lunch time). I also found their scallion pancake really greasy and the egg drop soup forgettable. However, you can't go wrong with their steamed buns and ho fun. I think it is a little of a mixed bag but the steamed buns and overall reasonable pricing are worth a return visit. I recommend eating in instead of taking out for a better experience. —OneLove
---
2011-03-25 20:08:19 We got take out this evening, ordering off the restaurant's online menu. Very, very disappointing. First off, my wife's Duck Noodle Soup was really bony duck neck broth. Good flavor but you had to pick out the bones from the broth. By itself, not a big deal, I've had traditional noodle bowls similarly prepared, but usually with a bit more actual meat. My daughter got chicken fried rice which was bland and tasted like nothing. My son's fried dumpling were okay, nothing special. The capper, however, was my Ma Po Tofu which came vegetarian style. I wanted it traditional style, which is with ground pork. The review in City Magazine, printed this very week, said that it came with ground pork and that the owner had said that the pork was "hacked-up" on premises. When I called to complain, the waitress who answered said that the Ma Po Tofu was on the vegetarian menu—in other words, it was my fault. When I checked online, the dish was not, it was under "House Specialties." Cross about being misled I called again and spoke to the owner, and he told me that the dish could come with pork, beef or with no meat, but that I had to ask if I wanted pork. Now I didn't want an argument. So I said so and told him that I/we would not be back again. His response: "Fine." Really, all I wanted was some consideration. In 30 years of ordering Ma Po Tofu in the Chinatown's of Boston, NYC, San Francisco, and in Rochester, no one has ever told me this dish did not traditionally come with pork. I like it so much, and go so tired of crappy iterations, I bought a Chinese/English language cook book to show me how. And guess what's in it? Pork. So I suppose that if you want mediocre Chinese food served with a liberal sprinkling of "We're right, and you're wrong," Han's Noodle Bar is a spicy thrill masochists everywhere will enjoy.
---
2011-03-25 20:12:23 Oh, I forgot, in all fairness, my wife's steamed pork buns were delicious. But I'm so cross about how I was treated, I only include this compliment grudgingly. —DavidShein
---
2011-04-02 19:20:03 Awesome place - the location is great and the food is far better than any "Chinese" place in the immediate area. It's clear that the owner and staff really want the place to succeed. The building was seemingly cursed, but Dogtown broke it's similar curse, and I believe Han can as well. —dphil97
---
2011-04-15 22:23:58 The pork belly buns are amazing. This place has the best Chinese I've had in the area. The first time we went, it was really busy and our food took a while, but they were kind enough to give us free appetizers to make up for it, completely unprompted. The second time, everything was much faster. Prices are very reasonable, too. —DeanRzonca
---
2011-04-16 22:25:30 Went with another couple a few nights ago, they were packed, it's great to see them so busy. We sampled a number of small plates including several of the steamed buns, all of which are wonderful. Entrees were great too. No liquor license yet, bring a bottle of wine with you for now. I stand corrected, this is apparently not allowed, learned something today ! —DottieHoffmann
---
2011-05-17 14:58:38 Friendly staff and excellent location (right at the end of my street =D) The food is amazing, I particularly like the steamed buns (all varieties) and the ginger scallion chicken. This is also the best crab rangoon I have ever had. —MrsD
---
2011-05-17 16:14:53 Tried it for the first time last night with my boyfriend, and we loved everything we ate! Started out with 3 fried spring rolls and 2 fresh, and they were absolutely delicious. The dipping sauces had just the right amount of spicy kick. I stuck with a classic just to try it out since it was my first time, and had the chicken lo mein. It did not disappoint; was perfectly seasoned and a great portion size for an unbelievable price. My boyfriend went with a spicy beef dish and ate it in no time. He ended up ordering a duck dish to go, he was so pleased. We finished our meal with a green tea cheese cake and it was an absolute delight. I can't wait to go back and try more menu items! —RachelHenderson
---
2011-05-19 15:00:55 Love this place, especially the pork belly buns. I like ordering a al carte here rather than getting the rice and noodle dishes, which are good but not amazing like the duck and the cuttlefish. —ErikReinert
---
2011-05-27 13:27:39 My wife and I had dinner at Han last night, and loved it. We got there at around 6:30 and the place was empty, but by the time he left pretty much every table was taken, and there seemed to be a constant flow of take out customers as well. Our server was a bit "green", and could definitely use some coaching, although, overall, she did her job acceptably. It is a bit of a bummer that they cannot yet serve beer, but in spite of these details, we definitely loved the food and the place. For appetizers we had the crab ragoon, which were delicious, as well as the chili edamame'a true discovery! What a great idea to sprinkle/sautee the edamame with that chile sauce! Spicy and delicious. We also had the pork belly buns which were wonderful, as many readers have already asserted. My wife had the roast duck noodle soup, and I had the Beef HoFein black bean sauce. Both were delicious. The broth wasn't greasy, and the duck, while a bit skimpy, was falvorful—particularly the nice, crisp skin! Dessert was not special: a green tea mousse cake that was, simply, unremarkable. Not enough green tea flavor, in my opinion. We paid $30 for a very satisfying meal. In sum, I am glad to see a new place that is simple, bold, creative, and affordable. I hope Han thrives, and I also hope they remain consistent! —carlossg
---
2011-07-05 20:04:43 Went there for lunch today. Absolutely delicious. Steamed pork dumplings tasted very fresh. —ThomasPawlik
---
2011-07-06 00:21:31 An echo of the previous commenters - I'd come here just for the pork belly buns. Absolutely delicious. For my meal, I ordered a simple pork lo mein, but it was rather bland. For a simple lunch, Han is a nice place to go, but it doesn't seem to stand out among the many other pan-asian options in Rochester. —TonyFolenta
---
2011-09-24 22:00:44 Got introduced to this very unique Chinese restaurant by a friend. I like the food so much that I've been there twice in a week. Their pork belly buns are superb. The environment is not the best though; I can hear all the noise in the kitchen and the interior should be improved. —Hua
---
2011-10-15 15:13:54 Had to make a 2nd comment for this restaurant. My girlfriend and I try and come here at least once a week. Their food is delicious! —Bammerburn
---
2012-01-16 20:40:20 My partner and I went to Han on a Sunday evening, and the previously mentioned lousy service was present, with only 1 woman (who looked like she would rather be anywhere else but there) giving service. She was attentive, but way overworked (as was the kitchen). Still, I have to give her credit for managing things single-handed.
We started off with a special starter, 'five spice beef', which was, frankly, a bit underwhelming. It's a sort of smoky-marinated slice of very inexpensive beef (with a bit of gristle in it), which, due to being marinated, was rather easy to chew. Still, it was at best unremarkable. If I see it on the menu again, I won't order it.
For main dishes, we ordered the pork belly with pickled turnips, and the Hot sour cilantro, basil shrimp and squid soup. The pork belly was a bit on the smoky side, but was rather tasty, albiet just a bit salty. Had I known how similar it was to the starter, I would've probably had a different starter. The soup was wonderful (although a bit messy, since the lo mein noodles were a bit glutinous-order it with thin noodles!), and was just spicy enough to be interesting, instead of blazing hot (like many Korean style soups are). This dish alone would make a great lunch.
Also, a few days back, I had a simple pork with garlic sauce as a take-out lunch, and was very pleased with it (not your usual sugar-infused faux Chinese style, that's for sure!). I can likewise recommend it.
Demerits must be mentioned for the lack of beer, and the rather plain green tea (next time, I'll try the jasmine tea), which, they have the balls to charge extra for! Also, the 'hipster crowd' there can be a bit annoying, too (note to the Morrisey-circa-1986-lookalike at the next table: I was into The Smiths before your parents had even finished puberty, and even Morrisey gave up on THAT look 20 years ago. Try doing something original, maybe?).
I would probably give an overall rating of 3.5 stars out of 5. They aren't perfect, but we need more places like this in town. There's far too much crap Chinese food locally.

---
2012-04-15 21:38:25 This place is awesome! The roast pork soup is deliciouness. I went there last week and had a huge bowl of it and a pot of green tea and my total was $10 including tip. Can't beat that! —Dropit333
---
2012-09-22 14:45:45 My dad and I ate here today, and we were very pleased! We got pork belly buns as an appetizer after seeing how well recommended they were, and we really enjoyed them! The buns are so interesting, we wondered how they made them so doughy. I had the scallion lamb as my lunch, and i thought it was very good. My dad had cured pork, and I had never had anything cured before, and it was very interesting! A very unusual taste. We will definitely be back to try more menu items out. —ashleyluna
---
2014-05-17 17:37:26 Some months back I heard an emphatic recommendation for the Monroe location from a bartender. We have tried to call for take-out a couple times but could never get someone to answer. Last night we went for dinner and were very disappointed. The edamame had a freezer-burned taste that was not covered well by the dried pepper flakes. The other dim sum items were not very impressive, and the sauces that accompanied each one was poorly flavored. The egg-drop soup had a smokey, burned taste, and the vegetable-tofu noodle stir-fry was seasoned with salt and soy sauce. Service was lackluster and the atmosphere was unimpressive. With all that in mind, we were surprised that it has been in business for as long as it has, and drew quite a crowd of, apparently, regulars. Our preference is for fresher, herbal-seasoned fare like Flavors of Asia, and (although it's been a while) I recall Ming's Noodles being far superior. —JasonOlshefsky
---
2015-04-12 14:56:26 Took the kids here last night for the first time in a couple years. Food was awesome. Busy already at 5:30. We got pickled radish and cucumbers, pork belly buns, spring rolls, cumin lamb, curry chicken, and lo mein for the kids. Everything was great, but the lo mein was some of the best I've ever had. I was sneaking it off the kids' plates when they weren't looking.
---
2016-08-26 22:03:41 This is the closest I've come to the food I've had in China outside of China. Delicious and reasonably priced. —Cretinx