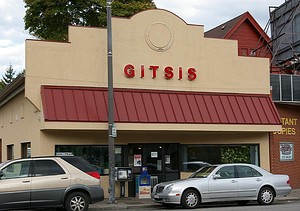 Gitsis on Monroe Ave, 10-2008
Former Location
600 Monroe Ave, Rochester NY, 14607
Status
CLOSED (as of April 2013)
Gitsis Texas Hots was a diner on Monroe Avenue. It was open all the time and they grilled the burgers. It was a great place to kick back during off hours. The clientele was known to be somewhat obnoxious during peak hours when nearby bars closed, but overall this was still a great diner. They took orders over the phone for carry-out.

Wonderful things that were staples at Gitsis:


Unsweetened Iced Tea


Monte Cristo Sandwich


Steak Fajita Wrap

It was a great place to go if you work odd-hours.

Awards


Voted "Best Place To Eat At 3AM" in City Newspaper's Of' awards in 2006.

Notes and References


The Webcam for RocPic.com, run by RonMorales, is currently located in the building beside this diner.


Company Data on Manta.com
Gitsis
closed in April 2013 for a renovation, image makeover, and name change. It is now The Avenue Diner.
Comments:
Note: You must be logged in to add comments
---
See Archive Page for comments prior to 2009.
---
2009-07-07 01:15:55 I Love this place - why? The food is great and cheap. How can you beat that? Yeah when the bars are getting out, it might not be the safest place to be, so don't go there at night! I usually stop by for a pick-up order for a late breakfast or early lunch. Have you seen their menu? Theres a wide selection from dinners, to burgers, subs and breakfast. And its all affordable - if you go there before 11am, you can get eggs, toast, meat and fries for about four bucks, and it one of the best breakfasts I've had. The people who work there are always friendly to EVERYONE - as in, they serve to a wide range of customers if you know what i mean, and they've always had good customer service when I'm there. It's also has that family-run mood. I also see a bunch of cops and EMTs there too. —heyhowareyou
---
2009-09-09 19:58:06 Gitsi's must've gone back to 24/7, because when a friend and I went there to meet up with another friend and a friend of theirs after we'd all left Vertex on a recent Saturday night, it was still open. We were there until at least 4:30am Sunday morning. By the way, the food that we had was delicious, especially the dessert, which was, if I recall correctly, a chocolate layer cake. Granted, we encountered rowdy drunkards on our way in, but it wasn't bad at all inside. I wouldn't mind going back. —ShawnWright
---
2011-04-08 18:31:00 I haven't been here in a long time.. in fact, the last time I was in here, you could still smoke in restaurants. Still, I don't think this place has changed all that much. It's as greasy a greasy spoon diner as you're going to find. I wouldn't go here for the food. Rather, I'd go here to people watch. —BatGuano
---
2011-08-09 23:38:57 They have a good cheeseburger plate for take out on the way home from the bar.
---
2013-05-04 17:09:15 I can't believe it's gone. It's been there forever. I NEVER in a million years EVER thought Gitsis would close!!!! —sub619