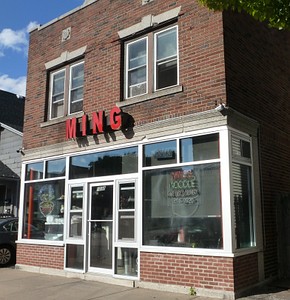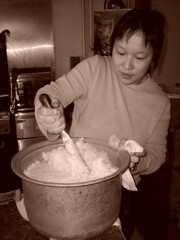 Kelly Shi fluffs a pot of rice (2005). By John Lam
Ming's Noodles is a Chinese restaurant in Swillburg. The
menu includes plenty of noodles, either in soup or pan-fried, including soba (buckwheat) and two bean-based noodles, but also includes Teriyaki and other specialties Ming likes to make, along with standard Cantonese-American dinner entrees.
Ming's was previously located in Flavors of Asia's current space. When they moved to their present location, they were known briefly as Ming II. Despite their similar names, Ming's Noodles is not affiliated with New Ming.
They were voted "Best Chinese Restaurant" in City Newspaper's Best Of Awards in 2006.1
Comments:
Note: You must be logged in to add comments
See Archive Page for comments prior to 2008.
---
2008-03-02 19:40:55 So wonderful. What is nicer than a hot plate of noodles on a cold Rochester day? Nothing. Mings is the very best. —ClareDygert
---
2008-03-29 13:06:22 The best vegatable fried rice in town!!! —EnishaCray
---
2008-04-25 02:04:01 I'm a big fan of the house special pan fried noodles at Ming's :) —NathanHenderson
---
2008-05-05 19:12:43 I believe that Ming's is just about my favorite in Rochester, well 80% of time. Inconsistent Garlic Chicken the other 20% of the time. Still love them though. _ —RickUrwin
---
2008-06-25 14:26:52 Great little joint. Some of their menu tends to be too salty, and I am a lover of salt, but still good nevertheless. The woman who works there (owner?) might come across as rude with her piercing eyes, but she is actually a nice person. —TippingPoint
---
2008-06-27 00:24:06 The garlic fried rice was delicious. It is definitely one of the better options for Chinese take out! —OneLove
---
2009-02-17 16:06:30 Ming's is my biggest food crush right now. It's getting pretty serious, I think I'm going to ask Ming's to marry me. —SteveCaruso
---
2009-04-15 22:56:48 I had my first lunch at Ming's today-vegetables with crispy noodles. The dish was very tasty. The atmosphere, of course, is nothing to write home about. Kind of a hole in the wall place, but I like those kind of restaurants. Yes, the lady did look mean, but she was very friendly. Overall, I'd certainly be willing to go back and try some more dishes. Judging on this one experience, though, I'd have to say that my meal at New Ming was better. —mooster42000
---
2009-10-03 14:52:29 Good for what's in their name - noodles. We like the Singapore and pan-fried noodles. The rest of the dishes are so-so, except for curry chicken. The kung-pao (or cashew) chicken comes with deep fried chicken, which makes it overwhelmingly rich. Vegetables with garlic sauce was too runny with near raw vegetables. —MVP
---
2009-10-08 16:30:24 Went here the other night with a friend and had a pleasant experience. Though the interior is small and kind of a hole in the wall place, the rest of this restaurant's qualities more than make up for it. For one, it's nice to have a place to eat that's open until 11PM in the area, as every other place closes by 9 or 9:30. The prices are top notch too, most dishes are in the $6-8 range and they arrive very quickly as they're cooked in a wok. Everything I've had here tastes fresh, flavorful perfectly cooked. Nothing like a wok to keep the vegetables at a nice crisp texture, but still well cooked.
I had the curry chicken ho fun and my friend had the mango pan-fried noodle. Both were excellent, though I prefer a bit more curry flavor with mine, but that's a personal preference.
All in all, a good choice for a quick, cheap, delicious no frills meal. —AlexD1234

---
2010-01-10 20:06:20 Simply great food and my favourite all over rochester —Sandyfurns
---
2011-01-14 23:15:27 Great food here, went down there once and the owner made a dish specially for us, it was delicious! Best restaurant ever! <3 —ChanLam
---
2011-06-14 07:07:47 This place is great—if you like being treated with hostility by some guy that must think his food is way better than it is. I had been here a handful of times before, never having a problem with the woman who usually waits tables, but I came in yesterday for one of the worst lunch experiences I've ever had. Larry, I think his name is, ignored me when I came in and said hi, even though I was the only one in the place! He gave me a menu and I sat down; not a minute later, he came to my table bearing down on me even though I was still looking at the menu and clearly hadn't made up my mind yet. When my food was ready, he thrust it in front of me, (with no response to my "thank you", of course). I was polite as heck to this guy and he didn't say a word to me the entire time I was there, even though he was all chummy to a guy who came in halfway through my lunch, so it's not like he doesn't speak English or something. I'm sorry, Larry, for having the nerve to come into your restaurant, be cheerful and polite, and give you business on what seemed to be a slow day. I will NOT be back. —mooster42000
---
2011-06-20 09:42:16 Fantastic Food! small but cheap!
---
2011-07-21 13:20:48 I had their Mango smoothies and it tasted awesome, I believe they used fresh fruit, it was great especially on this hot (almost 100 degree) summer day. The price was good too at $3.25 for my smoothy —DaveWong
---
2012-02-10 15:56:03 Excellent for Take Out! —Ikiwcor
---
2012-07-13 11:20:20 I had always loved this place but it is not as good as it once was :( We decided to eat in. Back in the day they would have brought out fresh fried crispy noodles with duck sause to snack on...they don't do this anymore. They place kinda smelled like garbage(it was hot) and lets face it the place could used a really good cleaning and maybe some new paint. It seemed really slow. When I got my food I couldn't help but notice how small my portion was. It was about 1/2 cup of food for $10. I understand the economy has hit this place hard. Unfortunately this was my last visit to mings. —mrsdoran
---
2013-10-29 16:48:54 I used to love this place, but if my experience today and the majority of recent reviews posted here are anything to go by, this place is sliding downhill. I ordered a pork Singapore mei fun noodle, and it was at best mediocre. They were stingy with the meat and Chinese vegetables, but they sure put in a LOT of zuccini and summer squash, which are a) NOT Chinese, and b) extremely cheap this time of year. I also ordered a side of tom yum soup, and once again, it was about half cheap squash, with very few traditional vegetables. What a gyp!
I mean, I'm all for using fresh, local vegetables, and I might even try this combination at home, but not for paying customers who are looking for something at least a little exotic. Filling your dishes with the cheapest crap you just bought at the public market is NOT the way to get repeat customers. I spent $10 for lunch, and felt I only got $5 worth of food! This might be the way to run a school cafeteria, but not a for-profit restaurant.
And, while we're talking about the place, would it kill them to at least TRY cleaning the place up a bit? The floor was beyond dirty, it was FILTHY! It obviously hadn't been even swept (much less actually mopped) in days! The place is a pigsty! Sorry, I take that back-I've seen pigstys that were cleaner than this place!
Well, this place used to be good for a quick, cheap meal, but it's no longer cheap, clean, or very good it seems. I doubt that I'll ever come back. You can do better for price and quality at just about ANY other Chinese place in town.