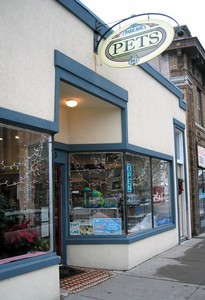 Park Ave Pets, on Monroe Ave 12-07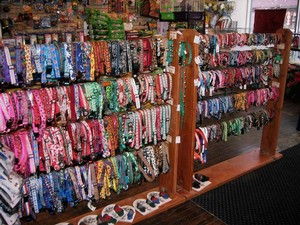 A vast selection of collars ! 12-07
Park Avenue Pets offers a good selection of pet supplies plus fish, birds, and some small mammals. The shop is also home to Laundermutt, which offers self-service pet grooming.
Although the store is now in the Upper Monroe neighborhood, its first location was on Park Avenue, as reflected in its name.
Comments:
Note: You must be logged in to add comments
---
2007-06-27 08:42:20 Best pet store ever!!! You just can't put a price on caring and knowledgeable customer service, especially for the fur (and scales, etc,) kids! —AlyssaFoos
---
2007-09-13 12:24:00 Top Dog Grooming did a wonderful job grooming our puppy! Highly recommend! —TriciaSeymour
---
2007-10-07 11:17:10 Owner was wonderful... very friendly and great customer service. I normally don't mind paying a little extra for the personalized service at local shops, but her prices are LOWER than the chain stores!!! —MichaelRickert
---
2007-11-04 18:24:55 Confirming everything mentioned above, Lisa is wonderful, we've known her since she operated on Park Ave. And, on the foods we buy she is cheaper than most other places including the big box stores. This is a great city business that deserves your support. —DottieHoffmann
---
2008-08-12 22:37:54 Owner is very helpful. My fishtank cracked and started to leak, resulting in me needing to find a place to take my fish. She was willing to take my fish without any hassels. —ScottHendler
---
2009-10-30 00:52:42 I will always support Park Ave Pets. The owner is knowledgeable, helpful, and friendly. They take really good care of the animals they sell. She actually talked me out of buying a chinchilla because my circumstances weren't ideal! Please support local businesses like this one. —beetlebetty
---
2009-12-23 12:11:22 This is one rare example of a locally owned business that I WILL NOT support. The owner may be nice to her customers but she is dismissive of the neighborhood. She is unnecessarily rude to city staff attempting to assist the Monroe Avenue merchants and single-handedly de-railed an attempt to develop, with the city, street manager, and neighborhood associations, a new and more effective sign permitting program for Monroe Avenue. She does not understand that you can disagree without being disagreeable and puts for information without verifying its truthfulness.
And besides, isn't it just kind of silly to call a store 'Park Avenue Pets' when it is located on MONROE Avenue??!! —ChrisStone

---
2009-12-23 18:01:55 Also to go along with the previous comment, the owner will call the police if you park in front of her store past the posted sign time (very short for city streets). She will not budge on this even for the neighbors next to her store. —Chef
---
2009-12-24 14:18:45 The two comments above me obviously have some bad grapes. I don't know the circumstances of each neither does anyone else, so please keep it to yourselves. Lisa is a great business owner who I've shopped at her store since she was on Park Ave. Who REALLY cares that its called Park Ave Pets ChrisStone(is it not in the Park Ave area???). What store do you own ChrisStone and what are the real facts not coming from your vantage point? It sounds like a personal grudge maybe because your business is not doing well? In fact the area she is in now has improved immensely since a legitimate and much needed business(not a tattoo parlor or some rip-off inconvenience store) has entered that Monroe Ave cess pool. Anyhow, the prices and selection there are amazing. The pets are well cared for, the store is immaculate and she does a great service to the community(holding pet/stray adoptions) that would have NO other store like it. Especially one that has a caring and knowledgable owner in Lisa. Now tell me WHY would ANYONE go to a big box store that have been proven to abuse/kill animals. So just be careful you illegal parkers(Chef), you should be ticketed. —steve
---
2009-12-24 14:30:11 I am not a business owner, I am a neighbor and homeowner. I have had no personal dealings with the owner of Park Avenue Pets other than as a customer, once. I don't disagree that it is a well-run business and the animals are obviously well cared for and I appreciate that.
What I don't appreciate is the owner running to the media, most recently Channel 8, spreading misinformation about city staff and the efforts to create a new sign ordinance for Monroe Avenue. I have witnessed her become verbally abusive to police officers at neighborhood meetings (I hope they don't come next time she calls about a parking infraction). I just want people who only know her as a business person and animal lover to see the other side of the story. She is not a good neighbor. —ChrisStone

---
2009-12-24 15:56:25 Fortunately I do not park there, but this behavior should be known for people living in that area. —Chef
---
2009-12-25 08:53:08 Point taken people. I've known Lisa a long time and will personally vouch that she IS in fact a good person. The details surrounding the situation are NOT known. So, let's just be fair and say that she runs a fine establishment in a neighborhood that is NOT that great. I used to live right around there and realize there are a lot of bad apples and many issues to be addressed. Crime is definitely a problem in the immediate area(I know as I have had some dealings with the city myself, usually falling on deaf ears). I can only say that since she has moved there the neighborhood HAS improved. Leave the politics out of it. No one needs or cares to know about that. The street signs there and along Monroe Ave. are CLEARLY marked as they are everywhere else in the area. Maybe you would rather have more bars, tattoo or piercing shops right next to your home? It's tough all over buddy, why not have a business that does good for the community there? Strays are a problems all throughout the area and I see nobody caring or batting an eyelash. Sign ordinance or not, she has a right to speak her mind of what she feels is good for the community of businesses there. I wish you the best as a neighbor and will be sure not to park in front of your house. —steve
---
2010-01-04 16:12:45 This independent store offers a very good selection of toys and food for a reasonable price. I buy Wellness pet foods, and she stocks an excellent selection. And it is very nice that the store is open until 7PM. —Snowbag
---
2010-05-31 08:10:06 Great store! Better leash/collar assortment than all the petcos combined, seriously! She also carries all the premium food, I don't like to feed my dog corn meal as the top ingredient. I did the price check and all the prices are in the same range. now I just walk the 2 blocks instead of driving to petco.
As a member of the neighborhood I like to respond to the previous comments. This store is one of the best things in the entire neighborhood. Across the street is home to a handful of crack heads, not to mention the alleged prostitution in the area. And worse unresponsible people are backyard breeding pitbulls and selling them at 2 weeks old, wonder why theres so many pitbulls in the area. And you worry about this woman getting nasty, ChrisStone?

---
2010-06-01 11:12:22 I used to live in the neighborhood, and wish I still had this store close by. The owner was always friendly and willing to discuss your needs for your pet and any relevent neighborhood issues you felt like chit-chatting about. Her prices, obviously, are going to be a little higher than a big-box-puppy-mill-supporting-super-store, but I can save more money brewing coffee at home, than I can driving out of my way to buy dog food at Petco. The owner truly cares about her neighborhood, other business owners in the neighborhood, and the quality of her customer's experience both OUTSIDE her doors as well as within them. Rochester needs more strong-willed, opinionated business owners who stand up for their beliefs and the rule of law. —ErikReinert
---
2013-06-28 17:13:03 I moved back to Rochester in 2009, and Lisa's store was first place I went to for supplies for my kitties and fosters. She was very friendly and helpful from the beginning, and she is the kind of local proprietor I want to support. She stocks high quality items, high-end and low-end foods. I normally feed grain-free and raw, but I needed kitten chow for my senior old lady cat. Lisa was accommodating about everything and provided personal attention, which means so much to me.
I was just there today to get some digestive enzymes & probiotics for my other old lady cat who is ill. As always, Lisa was personable, willing to listen to what was going on, and extremely helpful. No hard sell, just responsive to what I needed and very sympathetic to what my old lady is going through. One other thing she did that I really liked was to refer me to another store on Clinton for raw-food for pets. That was very cool. Instead of trying to talk me into something else, she cheerfully referred me to the lovely gentleman on Clinton & Averill. I will continue to shop at Park Avenue Pets for my specialty pet supplies.
About the parking near & in front of the store. The spots are limited, and there is 1-hour and 15 minute parking closest to the store. I can see why she would be concerned if people were using taking those spots for longer than the allotted time. That is something that would concern any shopkeeper, as people are likely to pass by and head to Petco in Pittsford if they can't get parking in front of her store.