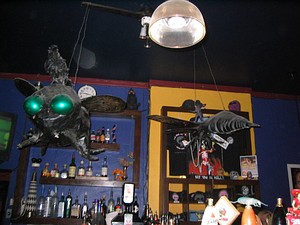 Bug Fan at the Bug Jar
The Bug Jar is a a long-time Rochester bar and nightclub featuring live music on Monroe Avenue.
There are two rooms: the first is the bar with seating, a pool table, a Ms. Pac-Man/Galaga arcade game, and a MegaTouch machine as well as some artistic touches like the pair of giant bugs that constantly circle over the bar. There are many paintings displayed on the walls which have price tags attached. The other room is for DJ's and bands—they have a small dance floor and a modest-sized stage (and don't forget to check out the living room inverted on the ceiling…or are you the bug on the ceiling?)
They have DJ's on Sunday, Monday (80's night), Wednesday, some Thursdays (after the bands) and on Friday, and live music on Monday (rarely), Tuesday (usually), Thursday, and Saturday.
Most of the bands that play do original music. Styles are most often punk-rock, rock, or heavy-metal with synth-pop, acoustic, ambient, alternative-rock, experimental, and other styles appearing less often. Cover charge for bands is usually $6 for over-21 and $8 for under (there's occasionally a cheaper show, frequently no additional charge for under-21's, and some shows with popular bands will cost more.) Bands usually start playing around 10:30, give or take a half hour, except on Thursdays when they sometimes have an early show that starts around 9.
Monday is Manic Mondays 80's Dance Party where DJ's play a mix of 1980's music (both popular and club tracks.) 21 & up and it's FREE!
Bands that have graced the Bug Jar stage include The Black Keys, Modest Mouse, The White Stripes, Vampire Weekend, The Arcade Fire, and many many more.
They used to sponsor the annual Bug Jar Fest.
Owner also owns Dragonfly Tavern and Silver Iguana Cantina
Photos & Videos
Video performances (on YouTube) at the Bug Jar over the years:

Awards
Comments:
Note: You must be logged in to add comments
---
2007-08-21 10:09:26 The Bug Jar is definitely one of the coolest bars—if not the coolest bar—in Rochester. —BadFish
---
2007-08-31 12:57:45 The bug jar fits this neighborhood well as Monroe Ave is Rochesters funky and freaky neighborhood. It is always interesting to drive by and see all the different people outside smoking. —MrRochester
---
2008-08-15 15:03:15 The Bug Jar rocks, it truly is a Rochester staple and I hope it stays around for years to come. —AlexD1234
---
2008-09-05 11:45:17 my band—the regrets—played at the bug jar back in the late 90s. one of the most fun rock clubs we ever played. glad to see it's still around. —bradallen
---
2008-12-09 12:33:17 I used to come here often for Herminator X but I haven't been in yeeeeeeeeeeears. I remember they had a good bartender. Still, I know they still have decent artwork on the walls. —BatGuano
---
2008-12-19 19:54:37 The bugjar is by far, one of the most interesting bars/music venues to visit in rochester. The people are just as colorful as the establishment. You can literally go every night of the week and experience a different style of music, from punk, indie, metal, hardcore bands, to dj's playing everything from hip-hop to electronic dance music. Being a music buff I am constantly surprised by the amount of talent that comes thru the jar on a regular basis. Most if not all of the music community in rochester frequent the bugjar, promote, play, or just hang out there. The drinks are reasonable, the staff is pleasant. I honestly think that the bugjar is one of the few things that rochester can be proud of. —realtalkroc
---
2009-01-08 13:33:13 The Bug Jar is the best place to see a band in Rochester. Even with the tight quarters, every show I've seen there over the years has been excellent. The sound is great, and you can see everything. It's a cool place to people-watch, and the staff is friendly. Rochester does not get a lot of quality live shows, but they seem to have at least one show a month that I'm interested in seeing. Keep up the good work! —Petey
---
2010-02-14 15:44:19 Herman is the man! —MetalFrost
---
2010-10-26 04:57:18 This bar is such a rochester staple. Not only is the beer cheap and the crowd fun, they bring the likes of tortoise, yeasayer, they even had those dudes vampire weekend on stage before they blew up. You can find me here every saturday at least! —danmalik
---
2012-06-19 15:24:34 I heard there was a shooting here!!! I'm not going to hang out in such a dangerous place. —Damiankumor
---
2012-06-19 15:35:24 Oh, for crying out loud. Monroe Village and Wadsworth Square are not bad neighborhoods. The Bug Jar is not a dangerous place. They were having a rap battle and people came in who don't usually patronize the Bug Jar (it's usually more of a rock-type venue). It's the city. Stuff happens. Stay in the suburbs if you can't deal with it. —EileenF
---
2012-06-19 15:42:03
http://www.democratandchronicle.com/article/20120619/NEWS01/306190022/1168/RSS They're temporarily closed, I believe they have had other incidents there that prompted this. I don't believe this is a bad neighborhood (I ride by on my way to work and live nearby), but I wouldn't call a massive street brawl leading to a shooting (on a Sunday night too) just "stuff happens"! —PDub

---
2012-06-19 15:44:50 100 people were not fighting. That was the size of the crowd of onlookers. The Bug Jar is a very popular nightclub and I've been there many times. It's always been a great, chill place. This incident is completely out of character for both the Bug Jar and the surrounding neighborhood. —EileenF
---
2013-05-03 03:10:45 The bouncers are giant assholes —ginsuguy585
---
---
2019-11-02 21:37:30 Does it still say "ya moms fo breffuss" on the bathroom stall wall? —batguano
---
2022-07-19 20:15:45 On October 9th 1999, there was a borderline biohazardous emergency. Patrons were enjoying a night of good music, drinking and dancing till one male patron visiting from the upper Naugatuck region of Connecticut with an acute case of flatulence discharged an excessive amount of intestinal gas. Although many patrons undoubtedly emit their intestinal gas at this establishment, this particular patrons gas had an abnormal amount of hydrogen sulfide resulting in unbearable smell of rotten eggs resulted in the clearing of the dance floor and surrounding area. A class action law suit filed was unsuccessful as the defendants defense "who ever smelt it, dealt it." Resulted in the judge dismissing the case. However the patrons who were victims that night still suffer from PTFD.