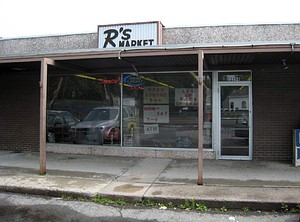 (6-2008)
Location
2294 Monroe Ave, Rochester, NY 14618
Hours (as of April 2015)
Upcoming
Phone
585 271 8270
Wheelchair Accessible
Yes
Alcohol
Yes
Email
<rsfoodmarket AT yahoo DOT com>
Website
Facebook
R's Market is a small grocery store on Monroe Avenue just south of 12 Corners in Brighton. They have been in business since 1961.
They sell their own meats and sausages, a large selection of craft beer, local gourmet favorites and some in-season vegetables.
R's initially closed in December 14, 2014. According to the Democrat and Chronicle: "Citing family issues, including an illness and having to raise two young children, the owners [Jason and Sarah Myers] decided they could no longer put in the hours necessary to sustain the business." R's was shortly afterwards purchased by Kevin Herrick, however, and will be reopening on May 4, 2015.
References
Comments:
Note: You must be logged in to add comments
---
2008-10-08 01:54:50 At R's Market we hand cut all of our MEATS from steak to ground meats which we grind in our cooler where you'll see us disapeear for a second :) If we wouldnt eat it you shouldnt have too either! —R'sMarketInc
---
2009-08-31 14:40:00 I love this place.....I hate going to wegmans and this store has everything I need. —limeylimer
---
2009-12-21 20:59:18 The best meats in brighton. Skip Wegmans, make your burgers with R's ground chuck. You'll like it. —ThomasPawlik
---
2010-11-17 11:30:01 Might stop by more if they took credit... —SargtGrumbles
---
2013-06-14 10:38:30 This place just keeps getting better. They still have some of the best steaks and homemade sausage around, and now they have a growler station with 6 microbrews on tap in addition to their packaged beer selection. When you just need a couple groceries it sure beats fighting the crowds at Wegmans! They also carry local specialties like pierogies, ravioli, cookies, etc. And they now ACCEPT CREDIT CARDS. —erksor
---
2015-04-05 16:55:09 Sign on window says coming soon. Purchased by new owners and should re-open spring of 2015. —scotthendler