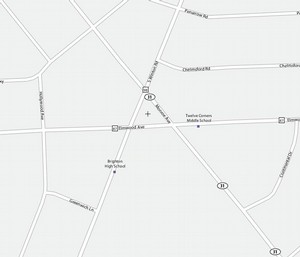 Map of 12 Corners from Yahoo Maps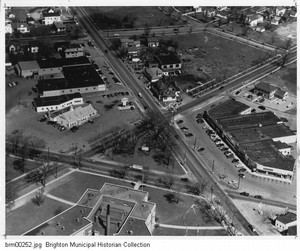 12 Corners in 1951 from the collection of Monroe Public Libraries
12 Corners in 2008 courtesy of Google Maps
Twelve Corners is where Elmwood Avenue, Monroe Avenue, and South Winton Road intersect each other pairwise, forming a triangular island, and — count them — twelve corners. There are many retail and service businesses near here as well as Twelve Corners Presbyterian Church and Brighton High School.
On the site of the now-closed (as of May 2008) Rite Aid (seen in the Google Maps photo) used to be a Howard Johnsons restaurant (seen in the 1951 photo) which was a landmark in this part of town.
The main plaza that fronts to Monroe Avenue hasn't changed much at all, and neither has the corner of Twelve Corners Middle School that faces the intersection.
See Also: Twelve Corners Plaza and Brighton Commons