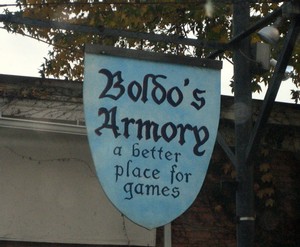 The small blue sign hanging out on Monroe Avenue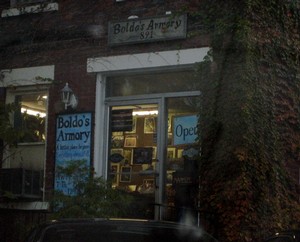 The front door. It's set back in from the road, you can turn in and park right by the door if you're lucky, otherwise you'll need to continue toward the back parking lot and then eventually back onto Laburnam Cres.
Location
891 Monroe Avenue, Rochester NY, 14620
Hours (as of February 2011 per Website)
Sunday: Noon-7:00PM
Monday/Wednesday/Friday: 2:00PM to 10:00PM
Tuesday: 9:00AM to 10:00PM
Thursday: 11:00AM to 10:00PM
Saturday: Noon-10:00pm
Phone
585 271 3880
Email
<boldo AT boldo DOT com>
Website
http://www.boldo.com/
See Also
Gaming
Boldo's Armory: "A Better Place for Games" Boldo's has a wide variety of Collectible Card Games, Board Games, Miniatures, Role Playing Games... plus actual Medieval replication armor made by Boldo himself!
2011-Boldo's owner, Alex White, is running for Mayor of Rochester.
Comments:
Note: You must be logged in to add comments
---
2007-011-08 16:26:42 I like the comfortable, friendly atmosphere of Boldo's a lot better than more cooperate gaming shops. Boldo's is a place I can go and hang out, not just a place for buying stuff and doing tournaments. —GreerNelson
---
2007-02-05 16:09:11 I prefer the brightly lit, open spaces of Millennium to the cramped, sweaty Boldo's. —IsaacVanDuyn

---
2009-11-13 21:31:48 Word has it that Boldo was manipulating which vendors should be allowed/not allowed in Rudicon. This is bad politics for the Rudicon staff. —PeteB