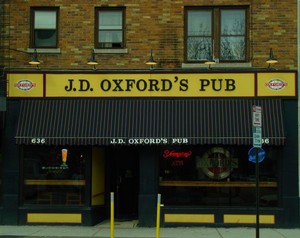 JD Oxfords (4/2008)- Photo by Tricia Seymour
Location
636 Monroe Avenue, Rochester NY 14607
Hours (as of May 2010 per Website)
Daily: 3:00PM to 2:00AM
Phone
585 256 0580
Specials
Sunday: $2.50 all pints
Tuesday: $2.00 domestic pints and wells
Wednesday: 2 for 1 selected pitchers
Thursday: PBR night, $1.50 PBR's
Email
<info AT jdoxfords DOT com>
Website
http://www.jdoxfords.com
JD Oxfords is a pub in the Monroe Village area. A nice selection of beers on tap and in bottle are offered at reasonable prices. For entertainment, Oxford's features a pool table, two electronic dart boards, pinball, and an internet jukebox. Oxford's also offers a small bar food menu until 9PM and offers all the NFL games via Satellite. Oxford's closed shortly for a change in ownership in August of 2006 and reopened in November of that same year. Oxford's is open 365 days a year and typically stays open until 8am (or later) on New Years Eve. Oxford's is a popular bar for college students in the surrounding area.
Comments:
Note: You must be logged in to add comments
---
2007-01-08 13:38:50 the pool table's still there. at least it was 2 nights ago. —ChristopherWahl
---
2007-07-18 09:25:23 Lola is not owned by the same people as Oxfords, Oxfords is under seperate management. Oxfords was sold in August. The former owner of Oxfords still owns Lola. —DarrenKemp
---
2007-07-18 09:26:29 I forgot to mention they have also added a "Family Guy" pinball machine featuring Tournament mode. (You can actually win money if you're good) —DarrenKemp
---
2007-12-10 11:41:39 Went there Saturday. I liked it and they have matured the clientèle. When I went in, the bouncer was questioning a girl about the ID she had presented him, and he seemed to be being pretty respectful about the situation. —BadFish
---
2007-12-17 10:20:55 Pinball is back at Oxfords. —DarrenKemp
---
2008-02-21 13:37:20 Incorrect, John is still the owner of JD Oxford's. He will also be opening up a new bar on Park Avenue where First Taste used to be within the next month or so. —AlisonSchaal
---
2008-02-21 16:26:38 Alison - Incorrect, I went to school with the current (primary?) owner of JD Oxford's and I am pretty sure that when he said "when John finally let me buy the place" he knew what he was talking about, especially since when he was telling us this, he was standing behind the bar and John was right there. John may still have a minority stake in it—I dunno. —BadFish
---
2008-02-22 13:22:13 John owns Lola and a new establishment opening on Park as mentioned above but Oxford's was transferred to a new owner. (Marty Cordy) —DarrenKemp
---
2008-02-28 11:23:01 Oxfords is a nice bar. It just doesn't hold the same appeal to me as it did when I was 19. —SaraChristine
---
2008-04-21 10:05:13 Ah to be 18 again.
If you are older than 25, then you shouldnt be at Oxfords. Good beer selection for a typical college bar. —MrRochester

---
2008-08-15 09:36:09 No way on the "under 25" comment above. Oxford's can be a pretty chill place except for late night Friday and Saturday. They have really made some good changes there and the place is cool. I see all ages there. —BadFish
---
2009-05-20 14:10:29 i agree with the under 25 comment. caters to the younger beer drinking crowd for sure. i liked my drinks, good location for bar hopping. don't usually like going b/c of the college frat guy filled crowd, but my friends love this place so it's manageable. nothing too exciting here. —Leisel
---
2009-09-11 21:21:32 This is not owned by Johnny D. Stop saying that, it is a lie. Johnny owns Murphy's Law with Marty C. and Mark C. Now that the rumors are dead: This is an old Rochester classic. Best night of the year is the night before Thanksgiving and it's a good St. Patty's spot, especially since Murphy Law was mobbed this year on St. Patty's day —CJM8232
---
2016-01-14 02:15:01 I have never been to a bar that has acted so illegally. I was kicked out after I was spilled on and slapped by a stranger simply because he was friends with the bouncer. —KatelynSaxton